Steve's Dead Rock Stars

---
---
*** 1979 ***
| | | | | | |
| --- | --- | --- | --- | --- | --- |
| Date | Age | Name | Claim to Fame | Cause of Death | Location |
| 12/3/1979 | | The Who concert stampede | | Stampede | Cincinnati, Ohio |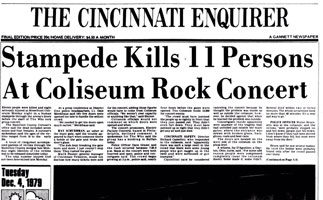 The Who concert stampede
December 3, 1979
On December 3, 1979 The Who performed a concert at Riverfront Coliseum in Cincinnati, Ohio. A stampede of concert-goers outside the coliseum's entry doors resulted in the tragic deaths of eleven people.
The concert was a sellout, with the majority of the tickets sold for general admission, unreserved seating. Hours before the show, a large crowd had gathered outside the venue, waiting for the doors to unlock. Eventually, only two doors opened at the southwest plaza. When the crowd heard a soundcheck and assumed that the show had started early, they pushed forward. This caused many people to get trampled with some suffering serious injuries.
The concert went on as planned, with the band members not told of the tragedy until after their performance.
11 people were killed and 26 people reported they were injured. The disaster led to general admission concert seating falling into disfavor.
The incident was the subject of a book, Are The Kids All Right? The Rock Generation And Its Hidden Death Wish, as well as a second-season TV episode of WKRP in Cincinnati called "In Concert". It also inspired scenes in the film Pink Floyd The Wall.
In 2015, an historical marker was placed on the site of the tragedy, now known as the U. S. Bank Arena.
| | | | | | |
| --- | --- | --- | --- | --- | --- |
| 11/23/1979 | 35 | Judee Sill | singer/songwriter | Drug Overdose | North Hollywood, Los Angeles, California |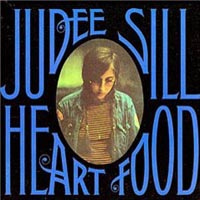 Judee Sill
October 7, 1944 - November 23, 1979
Judee Sill was an American singer and songwriter, singing in a style she called "Country-Cult-Baroque". Many of her songs dealt with Christian spirituality, metaphysics, rapture and redemption, and related topics. She was baptized by Pat Boone in his swimming pool.
Notably, she was the first artist signed to David Geffen's Asylum label. She released two albums on the new label "Judee Sill" and "Heart Food" before disappearing into obscurity.
Judee was the subject of a 1972 review in Newsweek magazine who called her "one of the most promising new singers in the business." She performed on BBC radio several times in the 1970s and appeared on the cover of Rolling Stone Magazine (April 13, 1972).
Judee Sill wrote two songs that were minor hits for others: "Lady-O" (recorded by the Turtles) and "Jesus Was a Cross-Maker" (recorded by the Hollies). Produced by Graham Nash, "Jesus Was a Cross-Maker" was also recorded by several other notable artists, including Warren Zevon and Cass Elliot.
Sill struggled with drug addiction for much of her life. After dropping out of the music scene, she died of a drug overdose the day after Thanksgiving in 1979.
| | | | | | |
| --- | --- | --- | --- | --- | --- |
| 11/17/1979 | 28 | John Glascock | Jethro Tull, bassist | Heart Failure | London, England |
| 11/16/1979 | 37 | Twiggs Lyndon | Allman Brothers / Dixie Dregs | Skydiving Accident | Duanesburg, New York |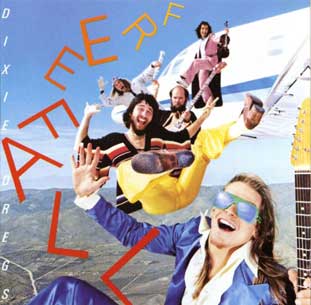 Twiggs Lyndon
1942 - November 16, 1979
Twiggs Lyndon was road manager for the Allman Brothers Band, but also worked for Little Richard, Otis Redding, and, later, for the Dixie Dregs.
The Allman brothers played two packed shows at a Buffalo, New York club named Aliotta's on April 29th, 1970. When the road crew arrived the next afternoon to pick up the band's gear, the owner met them and refused to pay, claiming that the band had shown up late for the show.
Twiggs, the Allman Brother's tour manager, was called to the club to speak with the club's owner, Angelo Aliotta. An argument and scuffle apparently ensued. Aliotta was stabbed three times with a ten-inch knife, causing fatal injuries. Lyndon was arrested at the scene and charged with first-degree murder. He spent 18 months in a Buffalo jail awaiting trial. The book, Skydog: The Duane Allman Story contains an interesting account of these events.
During the murder trial, Lyndon's lawyers argued that he had been temporarily insane at the time of the incident; touring with the Allman Brothers, they declared, would drive anyone insane. To demonstrate the point, bassist Berry Oakley was called to the stand and, though he was barely coherent and had to run to the bathroom several times to vomit, he did manage to answer a few questions:
"Did you take any dope in the last month?"
"Uh-huh."
"In the last week?"
"Oh yeah."
"What about the last hour?"
"You bet."
Incredibly, Lyndon was acquitted.
The Allman's live album At Fillmore East was released during this period. The Allman Brothers liked to include the road crew in band activities, including the photo shoot for this album cover. Since Twiggs was in jail and unavailable for the shoot (with famous Rock 'n' Roll photographer Jim Marshall) Lyndon's photo was superimposed over the roadie group photo that appears on the back of the album's cover.
In addition to other contributions to the Allman Brothers, Twiggs designed the album cover for the band's Win, Lose or Draw album. The artwork depicts an interior shot of a deserted Old West saloon: "A poker table topped with half-empty whiskey bottles, cards, and chips sits front and center, surrounded by six empty chairs representing the then-current members." Two empty chairs lean against a table in the background, representing past members Duane Allman and Berry Oakley.
Twiggs died in 1979 in a parachute jump at an upstate New York airport. In the book, Midnight Riders: The Story of The Allman Brothers Band by Scott Freeman, the author noted: "Lyndon was the veteran of three hundred jumps. He stepped out of an airplane at 8,500 feet, his chute never opened and Twiggs was killed on impact. He was 37. Although it was impossible to know, a lot of people suspected suicide. They said Twiggs had never been the same after Duane Allman and Berry Oakley died, and the irony was inescapable-the airport was in a little town named Duanesburg."
In an August 2000 interview in Goldmine magazine, guitarist Steve Morse states: "Anybody who said it wasn't an accident, first of all, wasn't there and is just trying to romanticize this crap. I spent all night driving and talking to Twiggs about everything. I spent a lot of time with him right before he went into the plane. I also spent hours, days, weeks, months talking about parachute jumps with him. I even dropped him out of one of my planes so he could make an appointment. Instead of landing, he would just jump."
To add to the irony, the Dixie Dregs first major label release, 1977's Freefall (Capricorn Records) features cover art showing Twiggs and the band jumping from an airplane!
| | | | | | |
| --- | --- | --- | --- | --- | --- |
| 09/27/1979 | 26 | Jimmy McCulloch | Wings | Heart Failure (drug related) | London, England |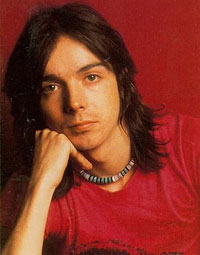 Jimmy McCulloch
June 4, 1953 - September 27, 1979
Jimmy McCulloch played lead guitar in Paul McCartney's Wings from 1974 to 1977.
McCulloch was a friend of the Who and a member of the band Thunderclap Newman. He made guest appearances on many albums, including John Entwistle's 1972 classic Whistle Rymes, Roy Harper's album, Bullinamingvase, and Ricci Martin's album, Bleached, both in 1977.
McCulloch also played guitar on Roger Daltrey's album One of the Boys which was released in 1977.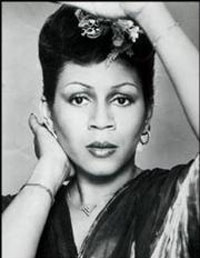 Minnie Riperton
November 8, 1947 - July 12, 1979
Minnie Riperton was a singer-songwriter best known for her 1975 single "Lovin' You".
Riperton grew up on Chicago's South Side. As a child, she studied music, drama, and dance at Chicago's Lincoln Center. In her teen years, she sang lead vocals for the Chicago-based girl group, The Gems. Her early affiliation with the legendary Chicago-based Chess Records afforded her the opportunity to sing backup for various established artists such as Etta James, Fontella Bass, Ramsey Lewis, Bo Diddley, Chuck Berry, and Muddy Waters.
In January 1976, Riperton was diagnosed with breast cancer and underwent a radical mastectomy. By the time of diagnosis, the cancer had metastasized and she was given about six months to live. Despite the grim prognosis, she continued recording and touring. She was one of the first celebrities to go public with her breast cancer diagnosis, but did not disclose she was terminally ill. In 1977, she became a spokesperson for the American Cancer Society. In 1978, she received the American Cancer Society's Courage Award which was presented to her at the White House by President Jimmy Carter.
She died at age 31 on July 12, 1979.
| | | | | | |
| --- | --- | --- | --- | --- | --- |
| 07/12/1979 | 39 | Van McCoy | singer/songwriter/producer | | Englewood, New Jersey |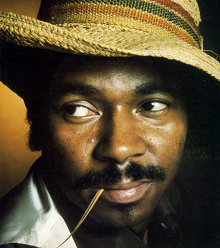 Van McCoy
January 6, 1940 - July 6, 1979
Van McCoy was best for his 1975 Disco hit song "The Hustle". He has approximately 700 song copyrights to his credit, and is also noted for producing songs for such recording artists as Gladys Knight & the Pips, The Stylistics, Aretha Franklin, Brenda & the Tabulations, David Ruffin, Peaches & Herb, Lesley Gore and Stacy Lattisaw.
McCoy died from a heart attack in Englewood, New Jersey, on July 6, 1979, at the age of 39. He is buried in the McCoy family plot at Lincoln Cemetery, Suitland, Maryland, a suburb of Washington, D.C.
| | | | | | |
| --- | --- | --- | --- | --- | --- |
| 06/29/1979 | 34 | Lowell George | Little Feat | Heart Failure | Arlington, Virginia |
| 05/21/1979 | 49 | Blue Mitchell | Jazz Trumpter | Cancer | Los Angeles, California |
| 05/11/1979 | 31 | Lester Flatt | Flatt and Scruggs | Heart Failure | Nashville, Tennessee |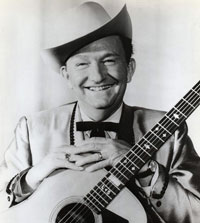 Lester Flatt
June 19, 1914 - May 11, 1979
Lester Flatt was a bluegrass guitarist and mandolinist, best known for his collaboration with banjo picker Earl Scruggs in The Foggy Mountain Boys (later known as "Flatt and Scruggs").
Flatt's career spanned multiple decades, breaking out as a member of Bill Monroe's band during the 1940s. He first reached a mainstream audience through his performance on "The Ballad of Jed Clampett", the theme for the network television hit The Beverly Hillbillies, in the early 1960s. The theme song was sung by Jerry Scoggins.
Flatt and Scruggs were inducted into the Country Music Hall of Fame in 1985. They are also charter member of the International Bluegrass Music Hall of Fame.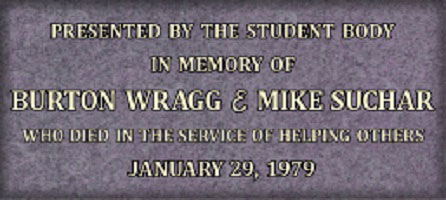 I Don't Like Mondays
January 29, 1979
On Monday morning, January 29, 1979, 16-year-old Brenda Spencer opened fire at the Grover Cleveland Elementary School in the San Carlos neighborhood of San Diego. She shot and killed Principal Burton Wragg and custodian Mike Suchar and injured a police officer and eight children. She fired at least 30 rounds from her .22 rifle, a Christmas gift from her father. Spencer later said, "I asked for a radio and he bought me a gun."
Brenda barricaded herself in her house directly across the street from the school. When a reporter from the San Diego Union-Tribune reached her by phone and asked her why she did it, she answered "I don't like Mondays. This livens up the day."
Bob Geldof of the band Boomtown Rats learned of the incident and was inspired to write the song "I Don't Like Mondays" about the event. Geldof and his band were in San Diego performing at The Roxy Theater in Pacific Beach, a small movie theater and concert hall (demolished, now a post office), on February 27, 1979. He may have learned of the shooting from the preliminary legal proceedings that were headlining local news broadcasts at that time. I Don't Like Mondays was also the title of a 2006 television documentary about the event.
Brenda was tried as an adult and sentenced to life in prison. As of May, 2020 she remains incarcerated at the California Institution for Women in Chino. In prison, tests determined that Brenda suffered from damage to the temporal lobe of her brain, perhaps from a childhood bicycle accident.
| | | | | | |
| --- | --- | --- | --- | --- | --- |
| 01/13/1979 | 33 | Donny Hathaway | soul singer | Suicide by Defenestration | New York, New York |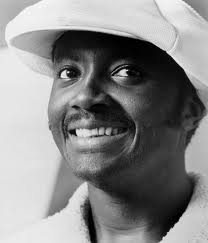 Donny Hathaway
October 1, 1945 - January 13, 1979
Donny Hathaway was perhaps the greatest soul singer of the 1970's. His life came to a tragic end much too soon. On January 13th 1979, Donny was found dead on the sidewalk below the 15th floor window of his room in New York's Essex House hotel.
The glass had been carefully removed from the window, and there were no signs of struggle, leading investigators to rule his death a suicide.
| | | | | | |
| --- | --- | --- | --- | --- | --- |
| 01/05/1979 | 56 | Charles Mingus | jazz bassist | Lou Gehrig's disease | Cuernavaca, Mexico |
| | | | | | |
| --- | --- | --- | --- | --- | --- |
| 12/27/1978 | 41 | Bob Luman | rockabilly singer | Pneumonia | Nashville, Tennessee |
| 12/27/1978 | 27 | Chris Bell | Big Star | Car Accident | Memphis, Tennessee |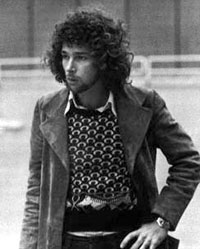 Chris Bell
January 12, 1951 - December 27, 1978
Chris Bell was a singer, songwriter, and guitarist born in Memphis, Tennessee. Along with Alex Chilton, he led the power pop band Big Star, which recorded albums during the early 1970s. Bell left the group after Big Star's first album, #1 Record (1972).
Chris Bell died when he lost control of his Triumph TR-7 sports car on his way home from his father's restaurant in East Memphis. The car struck a wooden light pole on the side of the road, killing him instantly. His funeral was held the next day, December 28, the birthday of former band mate Alex Chilton.
His death at age 27 qualifies him as another member of the "Forever 27" Club.
| | | | | | |
| --- | --- | --- | --- | --- | --- |
| 10/23/1978 | 69 | Maybelle Carter | Carter Family, singer/guitarist | | Hendersonville, Tennessee |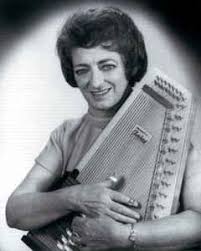 Maybelle Carter
May 10, 1909 - Oct 23, 1978
Maybelle was a member of the original Carter Family and mother of June Carter Cash and two other daughters, Helen and Anita. She became mother-in-law to Johnny Cash when Johnny and June were married in 1968.
The Carter Family began making music in 1927. The original group consisted of Alvin Pleasant "A.P." Delaney Carter, his wife Sara Dougherty Carter, and Maybelle Addington Carter, his sister-in-law.
The Carter Family's music had a profound impact on bluegrass, country, Southern Gospel, pop and rock musicians as well as on the U.S. folk revival of the 1960s. They were the first vocal group to become country music stars. Maybelle was the instrumentalist of the group, playing autoharp, banjo and guitar. She played on songs such as "Wabash Cannonball", "Can the Circle Be Unbroken", "Wildwood Flower", "Keep On the Sunny Side" and "I'm Thinking Tonight of My Blue Eyes."
Maybelle Carter died in 1978 after a few years of poor health, and was interred next to her husband, Ezra, in Hendersonville Memory Gardens, Hendersonville, Tennessee. All three of their daughters, "The Carter Sisters" – Helen, June, and Anita – are buried nearby in the same cemetery.
| | | | | | |
| --- | --- | --- | --- | --- | --- |
| 10/12/1978 | 20 | Nancy Spungen | Girlfriend of Sid Vicious | Murdered | New York, New York |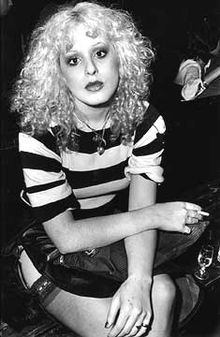 Nancy Spungen
February 27, 1958 - Oct 12, 1978
Nancy Spungen was the girlfriend of Sex Pistols bassist Sid Vicious. Spungen was found dead in the bathroom of the couple's room, of a single stab wound to the abdomen. Sid Vicious was charged with her murder but died of a heroin overdose while on bail in February 1979, before the case went to trial.
| | | | | | |
| --- | --- | --- | --- | --- | --- |
| 09/07/1978 | 32 | Keith Moon | The Who, drummer | Drug Overdose | London, England |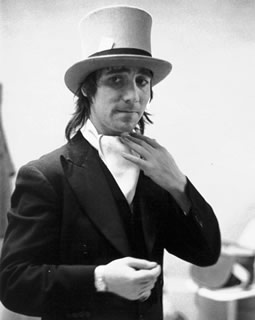 Keith Moon
August 23, 1946 - Sept 7, 1978
Keith John Moon (AKA "Moon the Loon") was the drummer for the British rock band The Who. He joined the band near its beginning in 1964 and stayed with them until his death in 1978.
Moon took lessons from one of the loudest contemporary drummers, Screaming Lord Sutch's Carlo Little, at ten shillings per lesson.
Moon developed a reputation for smashing his kit on stage, destroying hotel rooms, and other shenanigans and general mayhem. Accomplices included his friend Joe Walsh recalled who recalled that Moon "taught me how to break things."
On January 4, 1970 Moon accidentally killed his friend, driver and bodyguard, Neil Boland, outside the Red Lion pub in Hatfield, Hertfordshire. Pub patrons had begun to attack his Bentley and Moon, drunk, began driving to escape them. During the fracas, he hit Boland. After an investigation, the coroner ruled Boland's death an accident.
Moon married Kim Kerrigan in 1966; their daughter Mandy was born four months later. They divorced in 1975 and Kim then married Faces keyboard player Ian McLagan. She died in a car accident in Austin, Texas on August 2, 2006. He was later linked to Swedish model Annette Walter-Lax.
Moon died from an overdose of Heminevrin, which was prescribed to help with his alcoholism. He was found in the same London flat where Cass Elliot had died four years earlier.
| | | | | | |
| --- | --- | --- | --- | --- | --- |
| 08/24/1978 | 67 | Louis Prima | Singer, bandleader & Trumpeter | | New Orleans, Louisiana |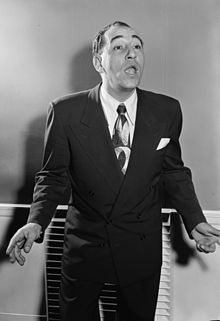 Louis Prima
"The King of Swing"
December 7, 1910 - August 24, 1978
Louis Prima was an American singer, songwriter, bandleader, and trumpeter. He played New Orleans jazz, swing music, and jump blues, but flirted with other musical genres, including Italian folk music.
Prima was also known for providing the voice for the orangutan King Louie in the 1967 Disney film The Jungle Book.
Prima is buried in New Orleans' famous Metairie Cemetery. The inscription on his gray marble crypt's door quotes the lyrics from "Just a Gigolo" a hit for Prima in 1956: "When the end comes, I know, they'll say, 'just a gigolo' as life goes on without me…" The song, written in the 1920s, was later recorded by the Village People and by David Lee Roth.
| | | | | | |
| --- | --- | --- | --- | --- | --- |
| 08/24/1978 | 31 | Stacy Sutherland | The 13th Floor Elevators | Shot by his wife | Center Point, Texas |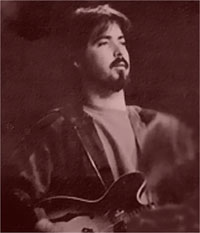 Stacy Sutherland
May 28, 1946 - August 24, 1978
Stacy Sutherland was the original guitarist for the Austin, Texas psychedelic rock band The 13th Floor Elevators.
He later formed his own band, Ice, which performed only in Houston and never released any material. In 1969, after a battle with heroin addiction, he was imprisoned in Texas on drug charges, the culmination of several years of drug-related trouble with the law. After his release Sutherland began to drink heavily. He continued to sporadically play music throughout the 1970s, occasionally with former members of the Elevators.
Sutherland was accidentally shot and killed by his wife Bunny during a domestic dispute, and is buried in Center Point, Kerr County, Texas.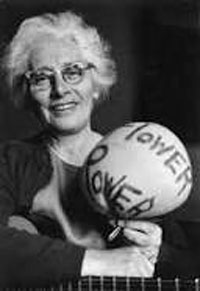 Malvina Reynolds
August 23, 1900 - March 17, 1978
Malvina Reynolds was an American folk/blues singer-songwriter and political activist, best known for her songwriting, particularly the songs "Little Boxes" and "Morningtown Ride."
<! #1978 #Bathtub #Electrocution >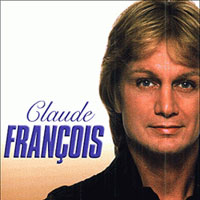 Claude Francois
February 1, 1939 - March 11, 1978
Claude Francois was a very popular French rock star. He wrote "Comme d'habitude," the original version of "My Way."
Like Jim Morrison, he died in a Paris bathtub. It seems that after bathing, he observed a burned out light above him. While standing in the tub, his feet in the water, he attempted to change the bulb. He was electrocuted and efforts to revive him failed.
| | | | | | |
| --- | --- | --- | --- | --- | --- |
| 01/23/1978 | 32 | Terry Kath | Chicago | Gun Accident | Woodland Hills, California |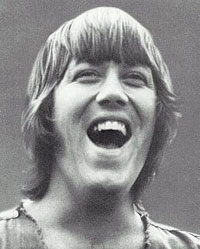 Terry Kath
January 31, 1946 - January 23, 1978

Terry Alan Kath was the original guitarist and a founding member of the rock band Chicago.

Terry Kath was tragically killed while playing with a semi-automatic 9 mm handgun from his collection. He removed the clip, but a round was already chambered.

He is buried in the famous Forest Lawn Cemetery, Glendale, California.

He left a widow, Camelia Emily Ortiz (whom he married in 1974), and a daughter, Michelle, born in 1976. Camelia was later married to Kiefer Sutherland from 1987 to 1990.

<! #1977 #Skynyrd #Aircrash > <! #1977 #Skynyrd #Aircrash > <! #1977 #Skynyrd #Aircrash >
| | | | | | |
| --- | --- | --- | --- | --- | --- |
| 10/20/1977 | 29 | Ronnie Van Zant | Lynyrd Skynyrd | Plane Crash | Gillsburg, Mississippi |
| 10/20/1977 | 28 | Steve Gaines | Lynyrd Skynyrd | Plane Crash | Gillsburg, Mississippi |
| 10/20/1977 | 29 | Cassie Gaines | Lynyrd Skynyrd | Plane Crash | Gillsburg, Mississippi |
| 10/14/1977 | 74 | Bing Crosby | singer/comedian/actor | | Alcobendas, Madrid, Spain |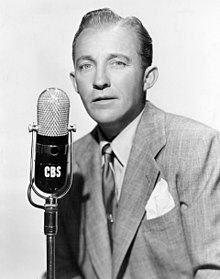 Bing Crosby
May 3, 1903 - October 14, 1977
| | | | | | |
| --- | --- | --- | --- | --- | --- |
| 09/30/1977 | 53 | Mary Ford | singer with Les Paul | Diabetes | Arcadia, California |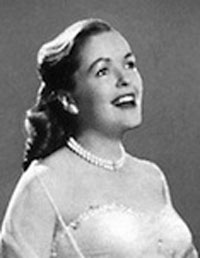 Mary Ford
July 24, 1924 - September 30, 1977
Born Iris Colleen Summers, Mary Ford was a vocalist and guitarist half of the husband-and-wife musical team Les Paul and Mary Ford. Between 1950 and 1954, the couple had 16 top-ten hits. In 1951 alone they sold six million records. They divorced, bitterly, in 1962, ending their professional association.
Mary Ford died of complications from diabetes in Arcadia, California at the age of 53. She is buried at Forest Lawn-Covina Hills in Covina, California. Although her year of birth has been variously reported (1924, 1925, 1928), the year 1924 is engraved on her tombstone.
Along with interviews, performance footage of the couple is featured in the musical documentary Chasing Sound: Les Paul at 90.
| | | | | | |
| --- | --- | --- | --- | --- | --- |
| 09/16/1977 | 29 | Marc Bolan | T-Rex | Car Accident | London, England |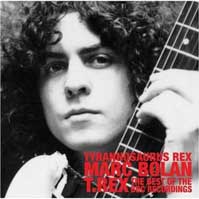 Marc Bolan
September 30, 1947 - September 16, 1977
Marc Bolan (Born Mark Feld) was British singer, songwriter whose influential band, T. Rex, helped define the glam rock era. T. Rex is remembered for genre-defining hit songs such as "Bang a Gong (Get it On)", "Jeepstar", and "Telegram Sam."
Bolan died in a car accident two weeks before his 30th birthday. After leaving a party, he was a passenger in a purple Austin Mini driven by his girlfriend and band member, Gloria Jones. Jones lost control of the car and it struck a sycamore tree. The accident occurred in southwest London, less than a mile from Bolan's home. Today, the site of the accident is a memorial to Marc Bolan and the musical legacy of T-Rex.
Ironically, Bolan had never learned to drive himself, fearing a premature death!
Fellow T. Rex member Steve Currie also died in a car crash less than four years later. Other members of T-Rex that have passed include Steve Peregrin Took, Mickey Finn & Dino Dines.
| | | | | | |
| --- | --- | --- | --- | --- | --- |
| 08/16/1977 | 42 | Elvis Presley | "King of Rock and Roll" | Drug Overdose | Memphis, Tennessee |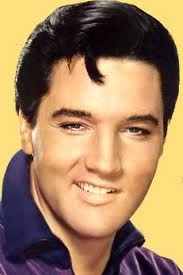 Elvis Presley
January 8, 1935 - August 16, 1977
Elvis Aaron Presley, the "King of Rock and Roll", was born in Tupelo Mississippi, but moved to Memphis, Tennessee at the age of 13. While there, in 1954, Sun Records owner Sam Phillips hired Elvis to help fulfill Sam's vision to bring the sound of African American music to a wider audience.
In a deal arranged by Colonel Tom Parker, Presley's contract was sold to RCA Victor. In January 1956, Elvis released his first single for RCA "Heartbreak Hotel." It became a #1 hit and Elvis became the leading figure of the emerging Rock 'n' Roll Revolution. In November 1956, he made his film debut in Love Me Tender.
Elvis served two years in the U.S. Army after being drafted in 1958. Returning to his career, he began to make Hollywood movies and soundtrack albums, staging only the occasional live concert.
In 1968, after 7 years away from the stage, he returned with a comeback television special on NBC, seen by millions.
In his lifetime, he won three Grammy awards and received the Grammy Lifetime Achievement Award at age 36.
His health weakened by very poor eating habits and an addiction to prescription drugs, Elvis died suddenly in 1977 at age 42.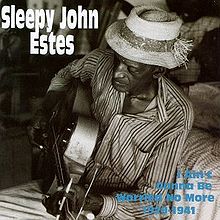 Sleepy John Estes
January 25, 1899 - June 5, 1977
John Adam Estes (better known as Sleepy John Estes) was a blues guitarist and singer. Estes made his debut as a recording artist in Memphis, Tennessee in 1929, for Victor Records. He later recorded for the Decca and Bluebird labels, but fell largely out of the public eye. He was tracked down in 1962 by Bob Koester and Samuel Charters. By this time, he had become completely blind and was living in poverty. He resumed recording and touring and appeared at the 1964 Newport Folk Festival.
Many of Estes' original songs were based on events in his own life or on people he knew from his home town of Brownsville, Tennessee, such as the local lawyer ("Lawyer Clark Blues"), local auto mechanic ("Vassie Williams' Blues"), or an amorously inclined teenage girl ("Little Laura Blues").
Bob Dylan mentions Estes in the liner notes of his 1965 album Bringing It All Back Home.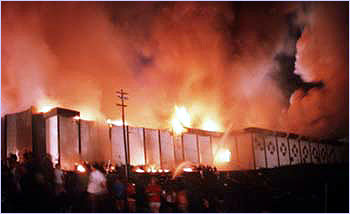 Beverly Hills Supper Club Fire
May 28, 1977
On the night of May 28, 1977, singer/actor John Davidson was scheduled to perform at the Beverly Hills Supper Club in Southgate, Kentucky, just across the Ohio River from Cincinnati. A fire broke out and quickly spread, ultimately killing 165 people and injuring more than 200. It was the deadliest fire in the United States since 1944, when 168 people were killed in the Hartford circus fire in Hartford, Connecticut.
Several factors made the Beverly Hills Supper Club fire particularly deadly.
On the night of the fire, the Beverly Hills Supper Club was operating far beyond capacity. A large crowd, estimated to be around 1000, filled the Cabaret Room (capacity 600), waiting for headliner John Davidson's performance. The overflow crowd filled the aisles and ramps leading in to the room. Several other events were being held simultaneously in other areas of the large complex, adding to the crowd.
A number of additions had been added the original structure, creating a sprawling complex of banquet rooms, service areas and hallways, many without direct access to the outside. Navigating to an exit from some areas required traversing multiple hallways, turns and doorways. Additionally, the complex had no sprinkler system, lacked an audible fire alarm, lacked firewalls, and had faulty wiring with multiple, wide-ranging code violations.
Singer Davidson helped other escape the inferno before he evacuated using a back door from his dressing room. Davidson was unhurt, but his musical director, Douglas Herro, was killed in the fire. Davidson later participated in a charity concert to raise funds for the families of fire victims.
As of 2018, the site of the club has been left undeveloped; a state historic marker on the site commemorates the tragic fire.
| | | | | | |
| --- | --- | --- | --- | --- | --- |
| 05/22/1977 | 48 | Hampton Hawes | jazz pianist | Brain hemorrhage | Los Angeles, California |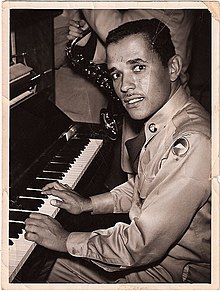 Hampton Hawes
November 13, 1928 - May 22, 1977
Hampton Barnett Hawes, Jr. was an American jazz pianist. He was the author of the memoir Raise Up Off Me, which won the Deems-Taylor Award for music writing in 1975.
| | | | | | |
| --- | --- | --- | --- | --- | --- |
| 05/03/1977 | 27 | Helmut Köllen | Triumvirat, bassist | carbon monoxide poisoning | Cologne, Germany |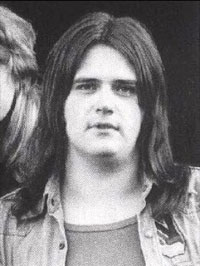 Helmut Köllen
March 2, 1950 - May 3, 1977
Helmut Köllen was the bass player and musician for the German progressive rock trio Triumvirat. He died from carbon monoxide poisoning while listening to some of his studio tracks in his car's cassette player while running the engine in his garage. His debut solo album You Won't See Me was released posthumously in October 1977.
| | | | | | |
| --- | --- | --- | --- | --- | --- |
| 04/04/1977 | 32 | Annette Snell | Fabulettes, singer | Plane Crash | New Hope, Georgia |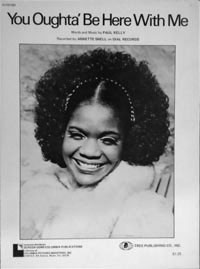 Annette Snell
March 22, 1945 - April 4, 1977
Annette Snell was a rhythm and blues singer from Miami. She recorded with the girl vocal group the Fabulettes, but left them in 1968 for a solo career. Her greatest success was a #19 hit with "You Oughta Be Here With Me".
She died in New Hope, Georgia (northwest of Atlanta) on April 4, 1977, in the crash of Southern Airways Flight 242, a DC-9 jetliner. Earlier that day, Annette was recording at Muscle Shoals Sound Studio in Alabama for what was going to be her breakout album.
A couple of interesting books were written about this plane crash. Am I Alive? A Surviving Flight Attendant's Struggle and Inspiring Triumph Over Tragedy and the story of surviving passenger John Tielking is told in his book Hail Fire.
At the time of her death Snell was married to Pete Jackson of Touch of Class.
| | | | | | |
| --- | --- | --- | --- | --- | --- |
| 02/26/1977 | 70 | Bukka White | blues guitarist | Cancer | Memphis, Tennessee |
| 01/02/1977 | 53 | Erroll Garner | jazz pianist | Cardiac arrest related to emphysema | Los Angeles, California |
<! #1976 #Blues >
| | | | | | |
| --- | --- | --- | --- | --- | --- |
| 12/28/1976 | 42 | Freddie King | blues guitarist | Heart Failure, Ulcers | Dallas, Texas |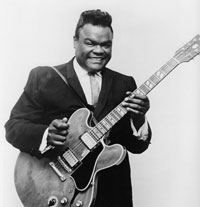 Freddie King
September 3, 1934 - December 28, 1976
Freddie King was a blues guitarist, singer and songwriter born in Gilmer, Texas.
Freddie King is considered one of the "Three Kings of the Blues Guitar" (along with Albert King and B.B. King). He got his big break in 1960 on Federal Records with single "Have You Ever Loved a Woman." The song reached number five on the Billboard magazine's rhythm and blues chart in 1961 and became a blues standard.
King is mentioned in the Grand Funk Song "We're an American Band" in the line: "Up all night with Freddie King, I've got to tell you, poker's his thing". Apparently, King would play poker with his band after shows. He paid the band, but often won all the money back!
King was inducted into the Rock and Roll Hall of Fame by ZZ Top in 2012 and into the Blues Hall of Fame in 1982.
King died December 28, 1976 from complications from stomach ulcers and acute pancreatitis, he was 42. The stress of touring almost 300 days of the year, a hard-partying liftstyle, and a poor diet of drinking Bloody Marys contributed to his early demise. He once told a journalist "they've got food in them."
| | | | | | |
| --- | --- | --- | --- | --- | --- |
| 12/04/1976 | 25 | Tommy Bolin | James Gang / Deep Purple | Drug Overdose | Miami, Florida |
| 06/25/1976 | 66 | Johnny Mercer | Songwriter / Co-founder of Capital Records | Brain Tumor | Hollywood, California |
| 05/14/1976 | 33 | Keith Relf | Yardbirds | Electrocution | London, England |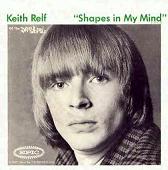 Keith Relf
March 22, 1943 - May 14, 1976
Keith Relf was born on the 22nd of March 1943 in Richmond, Surry. He was a part of the Metropolis Blues Quartet before joining the Yardbirds in 1963. With Keith's jaw dropping vocal range and amazing harmonica skill, he seemed to lead his fellow Yardbirds. In 1969, when the Yardbirds had fallen from the charts, he teamed up with his sister Jane Relf and former Yardbirds drummer Jim McCarty to form Renaissance. In 1970 he left the band and continued to do various producing jobs and forming the band Armageddon.
On May 14th 1976, Keith met his untimely death by electrocution due to an improperly grounded guitar.
| | | | | | |
| --- | --- | --- | --- | --- | --- |
| 05/09/1976 | 64 | Floyd Council | bluesman | Heart Failure | Sanford, North Carolina |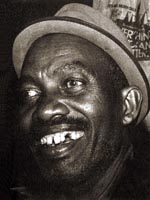 Floyd Council
September 2, 1911 - May 9, 1976
Floyd Council was a bluesman from North Carolina. He played with Blind Boy Fuller in the Piedmont blues style, popular in the early 1900's.
Syd Barrett, of the English progressive rock band Pink Floyd, came up with that band's name by combining the first names of Council and fellow Carolina bluesman, Pink Anderson. Syd noticed the names of these bluesmen in the liner notes of a 1962 Blind Boy Fuller LP. There is no evidence that Pink and Floyd ever met or recorded together.
| | | | | | |
| --- | --- | --- | --- | --- | --- |
| 04/09/1976 | 35 | Phil Ochs | folksinger | Suicide (hanging) | Far Rockaway, New York |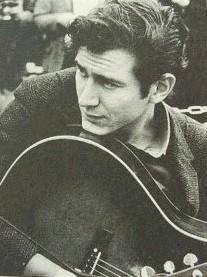 Phil Ochs
December 19, 1940 - April 9, 1976
Phil Ochs was folksinger/songwriter who specialized in topical, political and Vietnam War protest songs. His best remembered song is "I Ain't Marching Anymore" (from his second LP).
Phil was involved in the creation of the Youth International Party, known as the "Yippies", along with '60s radicals Jerry Rubin, Abbie Hoffman and Paul Krassner. Ochs went to Chicago in 1968 to participate in the demonstrations against the Vietnam War. He performed in Lincoln Park, Grant Park and at the Chicago Coliseum, witnessed the violence perpetrated by the Chicago police against the protesters, and was himself arrested at one point.
The cover of his 1969 "Rehearsals for Retirement" album eerily portrays a tombstone with the words:
PHIL OCHS
(AMERICAN)
BORN: EL PASO, TEXAS, 1940
DIED: CHICAGO, ILLINOIS, 1968

Phil was troubled by manic depression and hung himself at his sister's home. He was cremated and his ashes were scattered in Scotland.
| | | | | | |
| --- | --- | --- | --- | --- | --- |
| 04/07/1976 | 42 | Jimmy Garrison | John Coltrane Quartet, bassist | Lung Cancer | New York, New York |
| 03/19/1976 | 25 | Paul Kossoff | Free | Heart Failure, Drug related | New York, New York |
| 02/22/1976 | 25 | Florence Ballard | The Supremes | Coronary Thrombosis | Detroit, Michigan |
| 01/31/1976 | 64 | Buster Brown | blues singer | | New York, New York |
| 01/23/1976 | 77 | Paul Robeson | singer / actor | Stroke | Philadelphia, Pennsylvania |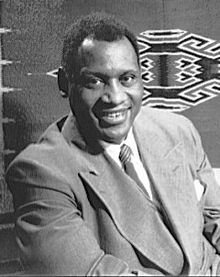 Paul Robeson
April 9, 1898 - January 23, 1976
Paul Leroy Robeson was an American bass singer and actor who became involved with the Civil Rights Movement.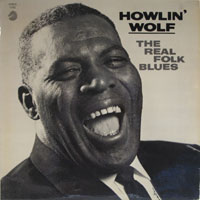 Howlin' Wolf
June 10, 1910 - January 10, 1976

Chester A. Burnett, known professionally as Howlin' Wolf, was an influential American blues singer, guitarist and harmonica player. His large size and loud, booming voice contributed to his commanding and slightly fearsome style of blues. He was an imposing figure at 6'6" (198 cm) tall and weighing close to 300 pounds.

Several songs written or popularized by Burnett, including "Smokestack Lightnin'", "Back Door Man", "Killing Floor", "Red Rooster" and "Spoonful", have become blues and rock standards.

Burnett died at the Hines VA Hospital in Hines, Illinois on January 10, 1976. He was buried in Oak Ridge Cemetery, Hillside, Cook County, Illinois in Section 18, on the east side of the road. His large gravestone, allegedly purchased by Eric Clapton, has an image of a guitar and harmonica etched into it.

<! #1975 #Blues >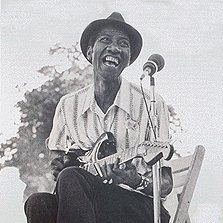 Hound Dog Taylor
April 12, 1915 - December 17, 1975
Theodore Roosevelt Taylor, known professionally as Hound Dog Taylor, was a blues guitarist noted for his slide playing, the use of cheap guitars, and his raucous boogie beat.
Born in Natchez, Mississippi, he moved to Chicago around age 20 and played in the Southside blues clubs and the Maxwell Street market. In 1971, a young man named Bruce Iglauer used his $2500 inheritance to form a new label and recorded Taylor's debut album, Hound Dog Taylor and the HouseRockers. The album was the first release on Alligator Records, now a major blues label.
Iglauer began managing and booking the band, which toured nationwide and performed with stars like Muddy Waters and "Big Mama" Thornton. The band became particularly popular in the Boston area, where Hound Dog inspired a young protégé named George Thorogood.
Hound Dog Taylor was born with the genetic condition polydactyly in which he had a small sixth finger on each hand. One evening, while drunk, he amputated the extra digit from his right hand with a razor blade.
<! #1975 #Forever27 #Drugs #UriahHeep >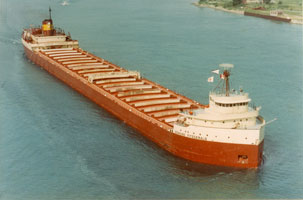 Wreck of the Edmund Fitzgerald
November 10, 1975
The SS Edmund Fitzgerald, an iron ore carrier and one of the largest ships to sail the Great Lakes, sank in a Lake Superior storm on November 10, 1975. All 29 lives on board were lost.
The story of the sinking is recounted in Gordon Lightfoot's popular folk song, The Wreck of the Edmund Fitzgerald. The song details a largely accurate tale of the tragic event.
SS Edmund Fitzgerald had quite a bit of notoriety even before the accident. At the time of her launching on June 7, 1958, she was the largest ship on the Great Lakes at 729 feet and one of the most modern. Her interior was luxurious by freighter standards. Features included deep pile carpeting, tiled bathrooms, drapes over the portholes, and leather swivel chairs in the guest lounge. Captain Peter Pulcer was known for blasting music through the shipboard intercom while passing through the St. Clair and Detroit Rivers. When traversing the Soo Locks, he would often come out of the pilothouse and use a bullhorn to entertain tourists with a commentary on details about Edmund Fitzgerald.
The SS Edmund Fitzgerald departed the Burlington Northern Railroad Dock 1 in Superior, Wisconsin on November 9, 1975 with a load of almost 27,000 tons of taconite pellet: processed iron ore that has been heated and rolled in the size of small marbles. It was bound for a steel mill on Zug Island, near Detroit (Lightfoot's song takes creative license here, calling the destination Cleveland, which was actually the ship's home port).
Edmund Fitzgerald was battling a severe storm, with wave heights reportedly 20 to 25 feet and wind gusts up to 70 knots (81 mph), but the exact cause of her sinking remains a bit of a mystery. The song states "They might have split up or they might have capsized." Evidence suggests she may have split up on the surface. The wreck of the Edmund Fitzgerald was found under 530 feet of water, about 17 miles from the safety of Whitefish Bay, in Canadian waters. The ship had split in two, with the bow section found upright and the stern section nearby, resting on its side. Between the sections was a large pile of scattered debris and taconite pellets.
| | | | | | |
| --- | --- | --- | --- | --- | --- |
| 11/4/1975 | 52 | Audrey Williams | ex-wife of Hank Williams | Heart Failure | Nashville, Tennessee |
| 11/2/1975 | 75 | Fiddlin' Joe Martin | blues musician | | Walls, Mississippi |
| 08/25/1975 | 75 | Father Yod | Ya Ho Wha 13, singer | hang-gliding accident | Hawaii |
| 08/8/1975 | 46 | Cannonball Adderley | Jazz saxophonist | Stroke | Gary, Indiana |
| 07/19/1975 | 47 | Lefty Frizzell | country singer/songwriter | Stroke | Nashville, Tennessee |
| 06/29/1975 | 28 | Tim Buckley | singer/songwriter | Drug Overdose | Santa Monica, California |
| 05/13/1975 | 70 | Bob Wills | King of Western Swing | | Fort Worth, Texas |
| 04/24/1975 | 27 | Peter Ham | Badfinger | Suicide (hanging) | Surrey, England |
| 03/16/1975 | 64 | T-Bone Walker | blues pioneer | Pneumonia | Los Angeles, California |
| 02/10/1975 | 27 | Dave Alexander | Stooges, bassist | Pulmonary Edema | Ann Arbor, Michigan |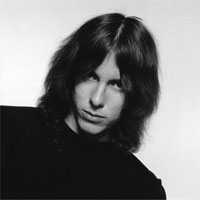 Dave Alexander
June 3, 1947 - February 10, 1975
Another member of the "Forever 27" Club.
| | | | | | |
| --- | --- | --- | --- | --- | --- |
| 02/04/1975 | 66 | Louis Jordan | Blues humorist | Heart Failure | Los Angeles, California |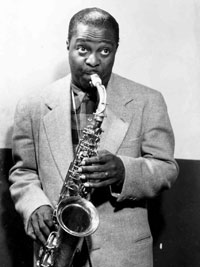 Louis Jordan
Born: July 8, 1908 – Brinkley, Arkansas
Died: February 4, 1975 - Los Angeles, California

Louis Jordan was a pioneering blues musician and songwriter with a humorous style. He was known as "The King of the Jukebox." Some of his big hits were "G.I. Jive," "Caldonia," "Buzz Me," "Choo Choo Ch' Boogie," "Ain't That Just like a Woman," "Ain't Nobody Here but Us Chickens," "Boogie Woogie Blue Plate," "Beans and Cornbread," "Saturday Night Fish Fry," "Is You Is or Is You Ain't My Baby?," and "Blue Light Boogie."

Jordan was particularly popular during World War II.

<! #1975 #Drugs >
| | | | | | |
| --- | --- | --- | --- | --- | --- |
| 11/25/1974 | 26 | Nick Drake | British folksinger | Trypitzol Overdose | Tanworth-in-Arden, England |
| 10/13/1974 | 73 | Ed Sullivan | TV Host | Esophageal Cancer | New York, New York |
| 10/12/1974 | 74 | Pink Anderson | Blues Pioneer | | Spartanburg, South Carolina |
| 09/23/1974 | 24 | Robbie McIntosh | Average White Band | Heroin Overdose | Los Angeles, California |
| 09/03/1974 | 73 | Harry Partch | Avant Garde composer/instrument creator | Heart Attack | Encinitas, California |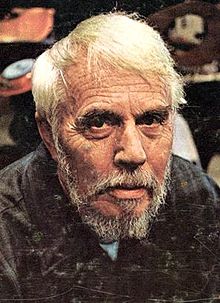 Harry Partch
June 24, 1901 - September 3, 1974
Harry Partch was an American composer, music theorist, and creator of unique musical instruments with such names as the Quadrangularis Reversum, and the Zymo-Xyl.
He composed using scales of unequal intervals in just intonation, and was one of the first 20th-century composers in the West to work systematically with microtonal scales. His custom-made instruments used these tunings on which he played his compositions. Partch described his theory and practice in his book Genesis of a Music.
In 2002, BBC aired a documentary about Partch: The Outsider: The Story of Harry Partch.
Paul Simon's 2016 album Stranger to Stranger uses some of Partch's custom-made instruments such as the Cloud-Chamber Bowls and the Chromelodeon.
| | | | | | |
| --- | --- | --- | --- | --- | --- |
| 07/29/1974 | 32 | Mama Cass Elliot | Mamas & Papas | Heart Attack / Ham Sandwich | London, England |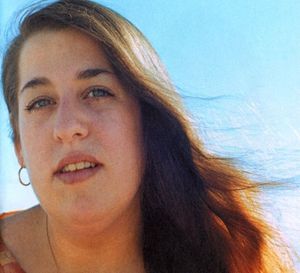 Mama Cass Elliot
September 19, 1941 - July 29, 1974
Cass Elliott, born Ellen Naomi Cohen, was a noted American singer, best remembered as Mama Cass of the 1960s pop quartet The Mamas & the Papas. She went on to a successful solo career with hits like "Dream a Little Dream of Me" from the 1968 album of the same name.
Elliot performed two sold-out concerts at the London Palladium in July of 1974. Afterwards, she telephoned Michelle Phillips, utterly elated that she had received standing ovations each night. She then retired for the evening, and died in her sleep of a heart attack.
An urban legend arose that Elliot died choking on a ham sandwich. The police noted that a partly eaten sandwich had been found in her room, but the coroner's autopsy found no food in her trachea.
Ironically, Elliot died in the same flat, No.12 at 9 Curzon Place, Mayfair, London, that The Who drummer Keith Moon would die in four years later.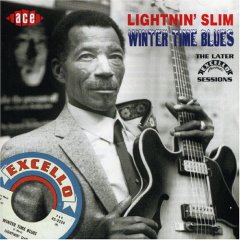 Lightnin' Slim
March 13, 1913 - July 27, 1974
Otis Verries Hicks, better known as Lightnin' Slim, was an American blues musician who recorded for Excello Records.
His first recording was "Bad Luck Blues" ("If it wasn't for bad luck, I wouldn't have no luck at all"), released by J. D. "Jay" Miller's Feature Records in 1954. Slim recorded for Excello Records for twelve years, starting in the mid-1950s, often collaborating with his brother-in-law Slim Harpo and with the harmonica player Lazy Lester.
| | | | | | |
| --- | --- | --- | --- | --- | --- |
| 07/17/1974 | 32 | Don Rich | The Buckeroos | Motorcycle Accident | San Luis Obispo, California |
<! #1974 #Country >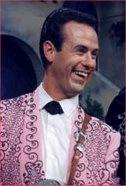 Don Rich
August 15, 1941 - July 17, 1974
Often called the "right arm" of Buck Owens, Don Rich was born Donald Eugene Ulrich on August 15, 1941, in Olympia, Washington. He was only 3 when he started singing and playing guitar. He appeared on radio at age 5 and took up the violin at age 6. At 15, he was playing lead guitar with Tex Mitchell. A year later, he began playing part-time with Buck Owens.
On July 17, 1974, after an evening in the studio, Don rode his motorcycle toward Morro Bay, California, where he planned to join his wife Marlene and their two sons, Vic and Vance, on a fishing trip. Don never made it to Morro Bay. Somewhere near San Luis Obispo he crashed his motorcycle into a highway divider. He was laid to rest at Hillcrest Memorial Park in Bakersfield.
| | | | | | |
| --- | --- | --- | --- | --- | --- |
| 03/28/1974 | 75 | Duke Ellington | jazz bandleader | Lung Cancer | New York, New York |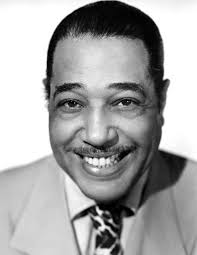 Duke Ellington
April 29, 1899 - May 24, 1974
Edward Kennedy "Duke" Ellington was an American composer, pianist, and bandleader of a jazz orchestra, which he led from 1923 until his death in a career spanning over fifty years.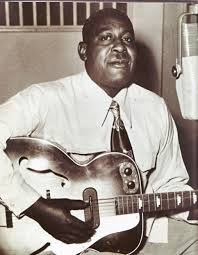 Arthur "Big Boy" Crudup
August 24, 1905 - March 28, 1974
Arthur "Big Boy" Crudup was delta blues singer known for writing songs covered by Elvis Presley including "That's All Right (Mama)" (1946), "My Baby Left Me" and "So Glad You're Mine."
| | | | | | |
| --- | --- | --- | --- | --- | --- |
| 03/21/1974 | 29 | Candy Darling | transgender actress | Lymphoma | New York, New York |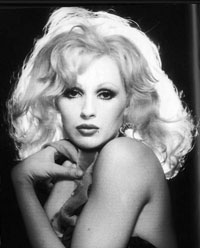 Candy Darling
November 24, 1944 - March 21, 1974
Candy Darling (born James Lawrence Slattery) was a transgender actress who was part of the Andy Warhol / Velvet Underground scene in New York in the mid to late 1960's.
She is immortalized in second verse of the Lou Reed song Walk on the Wild Side:
Candy came from out on the Island
In the back room she was everybody's darling
But she never lost her head
Even when she was giving head
She says, "Hey, babe,
Take a walk on the wild side."
Said, "Hey, babe,
Take a walk on the wild side."
And the colored girls go
"Doo do doo do doo do do doo..."

| | | | | | |
| --- | --- | --- | --- | --- | --- |
| 12/20/1973 | 37 | Bobby Darin | singer | Heart Failure | Hollywood, California |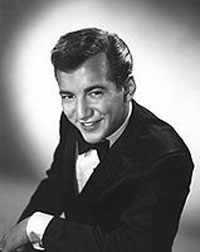 Bobby Darin
May 14, 1936 - December 20, 1973
Bobby Darin's hits included "Splish Splash" and "Mack The Knife". Born with a rheumatic heart, he died after unsuccessful open-heart surgery at the age of 37.
In 2004, actor Kevin Spacey starred as Bobby Darin in the feature film biography Beyond the Sea.
| | | | | | |
| --- | --- | --- | --- | --- | --- |
| 11/20/1973 | 48 | Allan Sherman | novelty songwriter | Respiratory failure | Los Angeles, California |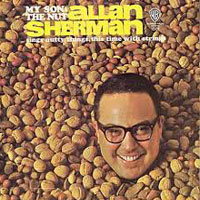 Allan Sherman
November 30, 1924 - November 20, 1973
Novelty songwriter most famous for his spoof summer camp song "Hello Muddah, Hello Fadduh" from his 1963 album My Son, The Nut.
Born Allan Copelon, he took his mother's maiden name after being abandoned in childhood by his father, Percy Copelon.
| | | | | | |
| --- | --- | --- | --- | --- | --- |
| 11/13/1973 | 30 | Jerry Lee Lewis, Jr. | son of Jerry Lee Lewis | Car Accident | <! #1973 #Aircrash > |
| 09/20/1973 | 30 | Jim Croce | singer-songwriter | Plane Crash | Natchitoches, Louisiana |
| 09/20/1973 | 24 | Maury Muehleisen | guitarist | Plane Crash | Natchitoches, Louisiana |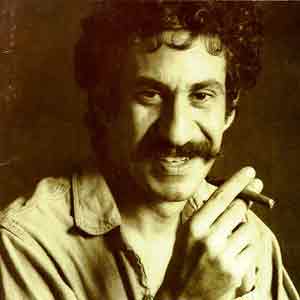 Jim Croce
January 10, 1973 - September 20, 1973
Jim Croce and five others (his guitarist Maury Muehleisen, manager Dennis Rast, booking agent Ken Cortese, comedian George Stevens, and the pilot) were killed after their Beechcraft D-18 airplane clipped trees during takeoff from Natchitoches, Louisiana. Croce had just performed at a concert at Northwestern State University - honoring a previous commitment to the school for a show they had booked before his career starting taking off.
Ingrid, Croce's widow, ran a successful restaurant and nightclub, Croce's, in San Diego (now closed). Jim's son, A.J. Croce, is a singer/songwriter that has released several CDs.
| | | | | | |
| --- | --- | --- | --- | --- | --- |
| 09/19/1973 | 26 | Gram Parsons | The Byrds | Drug Overdose | Joshua Tree, California |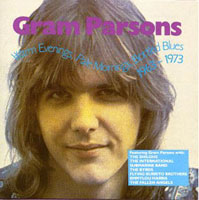 Gram Parsons
November 5, 1946 - September 19, 1973
Gram Parsons was born as Ingram Cecil Connor III in Winterhaven, Florida, the grandson of citrus fruit magnate John A. Snively. As a teenager, he developed a strong interest in folk music and formed his first professional band by age 16.
He attended Harvard University, studying theology, but departed after one semester. In 1966, he and others from the Boston folk scene formed the International Submarine Band. This band relocated to Los Angeles, and in 1968 released the album Safe at Home, which contains one of Gram's best-known songs, "Luxury Liner."
Gram Parsons toured with the Byrds in the summer of 1968. When he dropped out of a planned concert in South Africa, citing opposition to that country's apartheid policies, he was fired from the band. During his time with the Byrds, Parsons made major contributions and guided the direction of their album Sweetheart of the Rodeo.
Parsons next joined with Chris Hillman, Chris Ethridge (bass) and pedal steel player Sneaky Pete Kleinow to form the Flying Burrito Brothers.
Parsons became friendly with Mick Jagger and Keith Richards of The Rolling Stones. This friendship helped the Burrito Brothers get booked as the opening act at the infamous Altamont Music Festival. The Burrito's performance of the song "Six Days on the Road" was included in Gimme Shelter, a documentary of the Altamont concert.
Embarking on a solo career, Parsons signed with A&M Records and partnered with producer Terry Melcher, who had produced The Byrds' Mr. Tambourine Man and worked with The Beach Boys. Parsons met Emmylou Harris and the two toured, with a band, as Gram Parsons and the Fallen Angels. The road manager for the tour was Phil Kaufman, who had served time with Charles Manson on Terminal Island in the mid-sixties. Kaufman first met Parsons while he was working for the Stones in 1968.
In the summer of 1973 Parsons' Topanga Canyon home burned to the ground, the result of a stray cigarette. Nearly all of his possessions were destroyed with the exception of a guitar and a prized Jaguar automobile. Gram himself would be consumed by fire just a few weeks later.
Gram Parsons died of a drug overdose in room 8 at the Joshua Tree Inn. His body was moved to Los Angeles in preparation for a flight back to New Orleans, where we has to be buried in a private ceremony. Phil Kaufman and a friend stole Parsons' body from the mortuary at the Los Angeles International Airport. In a borrowed hearse, they drove Parsons' body to Joshua Tree and attempted to cremate it by pouring five gallons of gasoline into the open coffin, and throwing a lit match inside. What resulted was an enormous fireball. They were arrested several days later, but since there was no law against stealing a dead body, they were only fined for stealing the coffin. The burned remains were eventually returned to Parsons' stepfather and interred in New Orleans.
The movie Grand Theft Parsons presents a somewhat fictionalized version of these events.
<! #1973 #Temptations #Suicide >
| | | | | | |
| --- | --- | --- | --- | --- | --- |
| 08/17/1973 | 34 | Paul Williams | The Temptations | Suicide (gunshot) | Detroit, Michigan |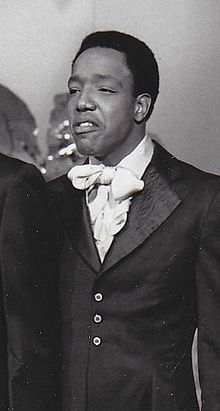 Paul Williams
July 2, 1939 - August 17, 1973
Paul Williams, founding member and original lead singer of the Motown group The Temptations, died in Detroit at age 34.
Personal problems, alcoholism and failing health due to sickle-cell anemia forced Williams to leave the Temptations in 1971. He was replaced by Richard Street.
In early 1973, Williams began recording solo material for Motown, including two songs "Feel Like Givin' Up" and "Once You Had a Heart."
On August 17, 1973, Williams was found dead inside a parked car. A gun was found near his body. His death was ruled as an apparent suicide.
| | | | | | |
| --- | --- | --- | --- | --- | --- |
| 08/06/1973 | 76 | Memphis Minnie | blues guitarist/singer | Stroke | Memphis, Tennessee |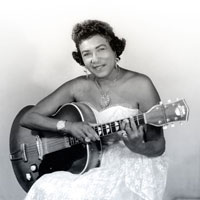 Memphis Minnie
June 3, 1897 - August 6, 1973
Memphis Minnie (Born Lizzie Douglas) was a blues guitarist and singer whose recording career lasted from the 1920s to the 1950s. She recorded around 200 songs, some of the best known being "Bumble Bee", "Nothing in Rambling", and "Me and My Chauffeur Blues".
Her music was very influential on other blues and rock artists. Her song "Me and My Chauffeur Blues" was recorded by Jefferson Airplane on their debut album, Jefferson Airplane Takes Off, with Signe Anderson as lead vocalist. "Can I Do It for You" was recorded by Donovan in 1965, under the title "Hey Gyp (Dig the Slowness)". A 1929 Memphis Minnie and Kansas Joe McCoy song, "When the Levee Breaks", was adapted (with altered lyrics and a different melody) by Led Zeppelin and released in 1971 on their fourth album. "I'm Sailin'" was covered by Mazzy Star on their 1990 debut album, She Hangs Brightly.
She is buried at the New Hope Baptist Church Cemetery, in Walls, DeSoto County, Mississippi. Her headstone was paid for by Bonnie Raitt.
| | | | | | |
| --- | --- | --- | --- | --- | --- |
| 07/14/1973 | 29 | Clarence White | Byrds | Killed by Drunk Driver | Palmdale, California |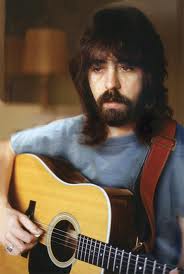 Clarence White
June 7, 1944 - July 15, 1973
Clarence White was a guitarist for the country-rock bands Kentucky Colonels and The Byrds. He made major contributions to several Byrds recordings, most notably the 1968 classic Sweetheart of the Rodeo. As a session guitarist, he played on early Monkees recordings. Clarence and Gene Parsons were co-inventors of the Parsons-White B-Bender guitar string bender.
Clarence was loading equipment into his van when he was mortally injured by a hit-and-run drunk driver named Yoko Ito. He had finished a performance with his brother at BJ's, a club in Palmdale, California.
At his funeral, Gram Parsons and Bernie Leadon lead the mourners in singing "Farther Along." Gram Parsons died only two months later.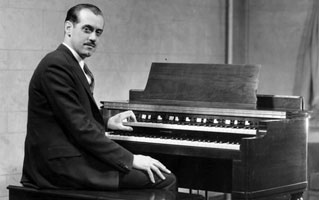 Laurens Hammond
January 11, 1895 - July 3, 1973
Laurens Hammond was a prolific inventor and childhood prodigy. He invented the first automatic transmission for cars, but was unable to interest automakers. He holds over 90 patents and created inventions including clocks and early system for 3D films.
His most successful invention was the Hammond organ and most notable among these is the B3 model. The Hammond B3 is a church organ in a heavy wood cabinet. In the 1960s, rock musicians discovered these organs and loved the sound (roadies HATE the massive and heavy B3, however!) The spinning horn in the Leslie cabinet, typically used in conjunction with the organ, gives the Hammond organ a unique sound. Thousands of these instruments are still in use and still being lugged around by back sore roadies around the world.
| | | | | | |
| --- | --- | --- | --- | --- | --- |
| 06/04/1973 | | Bruce Berry | roadie for CSN&Y | Heroin Overdose | Los Angeles, California |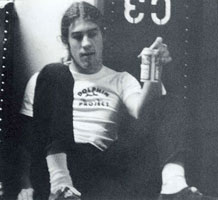 Bruce Berry

Bruce Barry was a roadie for Crosby, Stills, Nash & Young. He got started in the music business by working at his brother Ken's store, SIR (Studio Instrument Rentals). He used to load all of his instruments into his white Ford Econoline van. He moved to London for a time to work with Stephen Stills. When he moved back to Los Angeles, he was addicted to Heroin, having been turned on by Danny Whitten (from Neil Young's band, Crazy Horse).
One Story: When working for David Crosby, he told everyone that David's car had been broken into and that David's beloved Stratocaster had been stolen. He apparently had sold the guitar for drug money.
Berry died of a Heroin overdose on June 4, 1973. Neil Young's album Tonight's the Night is dedicated to Bruce and Danny Whitten, who himself died of a heroin overdose a few months earlier. The lyrics of the song "Tonight's the Night" speak directly of Bruce:
Bruce Barry was a working man, he used to load that Econoline van. A sparkle was in his eye, but his life was in his hands. Late at night when the people were gone, he used to pick up my guitar and sing a song in a shakey voice that was real as the day is long.
Bruce was brother to Jan Berry of Jan & Dean.
| | | | | | |
| --- | --- | --- | --- | --- | --- |
| 06/04/1973 | 55 | Murry Wilson | Beach Boys, manager | Heart Failure | Whittier, California |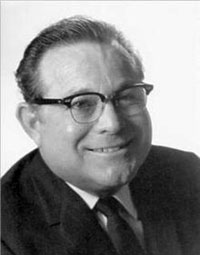 Murry Wilson
July 2, 1917 – June 4, 1973
Murry Gage Wilson was the first manager of the Beach Boys, the band formed by his sons Brian, Dennis, and Carl Wilson, his nephew Mike Love, and their friend Al Jardine. For most of the 1960s, Murry also acted as music publisher for the band.
After the Beach Boys dismissed Murry as their manager in 1964, he produced the sound-alike group the Sunrays, and recorded a single solo album: The Many Moods of Murry Wilson (1967, Capitol Records).
In 1969, without the knowledge or consent of the Beach Boys, Wilson sold off their publishing company Sea of Tunes for $700,000.
| | | | | | |
| --- | --- | --- | --- | --- | --- |
| 03/26/1973 | 73 | Noël Coward | English playwright and songwriter | Heart Failure | Jamaica |
| 03/08/1973 | 27 | Ron "Pigpen" McKernan | Grateful Dead | Liver Disease | Corte Madera, California |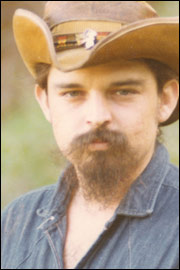 Ron "Pigpen" McKernan
** FOREVER 27 **
September 8, 1945 - March 8, 1973
Ronald Charles McKernan, nicknamed Pigpen for his slovenly lifestyle, was a founding member of the Grateful Dead. His musical contributions included vocals, Hammond organ, harmonica, percussion, and occasionally, guitar.
He grew up with many African-American friends and his father was a rhythm and blues disc jockey, exposing Pigpen to black music at an early age. He taught himself blues piano and developed a biker image.
Pigpen dropped out of high school and started playing gigs at around age 15, often in bars. He soon started drinking and developed a life-long problem with alcohol.
After meeting Jerry Garcia around 1962, the two decided to work together, and with a few other musicians, formed Mother McCree's Uptown Jug Champions, with Pigpen covering keyboard, harmonica, and vocals.
The next official grouping for Pigpen would be The Warlocks, with Garcia, Weir, and drummer Bill Kreutzmann. Around 1965, Phil Lesh joined and the band became known as the Grateful Dead.
McKernan had a short relationship and longer friendship with Janis Joplin. Joplin joined McKernan onstage at the Fillmore West in June 1969 with the Grateful Dead to sing ."Turn On Your Lovelight", despite her dislike of the band's jamming style. The two reprised this duet July 16, 1970 at the Euphoria Ballroom in San Rafael, California.
Pigpen's final concert appearance was June 17, 1972 at the Hollywood Bowl, in Los Angeles, California. On March 8, 1973, he was found dead of a gastrointestinal hemorrhage at his home in Corte Madera, California. He was 27.
His memorial marker reads:

RON McKERNAN
1945-1973
Pigpen was and is now forever
one of the Grateful Dead.
<! #1973 #Hendrix #Aircrash #MusicBiz >
| | | | | | |
| --- | --- | --- | --- | --- | --- |
| 03/05/1973 | 39 | Mike Jeffery | Manager, Jimi Hendrix | Plane Crash | Nantes, France |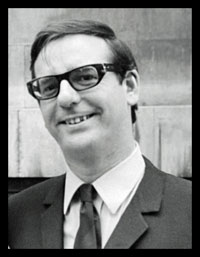 Michael Jeffery
March 13, 1933 - March 5, 1973
Frank Michael Jeffery was an English music businessman who managed both the The Animals and Jimi Hendrix in the 1960s. He co-managed Jimi Hendrix with former Animals bassist Chas Chandler and was an associate of Don Arden.
He died in 1973 in a mid-air collision over Nantes, France, while aboard an Iberia Airlines DC-9.
| | | | | | |
| --- | --- | --- | --- | --- | --- |
| 02/08/1973 | 53 | Max Yasgur | Owner of Yasgur's Dairy Farm, Woodstock | Heart Attack | Marathon, Florida |
<! #1972 #Drugs >
| | | | | | |
| --- | --- | --- | --- | --- | --- |
| 11/18/1972 | 29 | Danny Whitten | Crazy Horse | Drug Overdose | Los Angeles, California |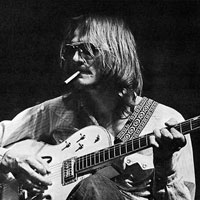 Danny Ray Whitten
May 8, 1943 - November 18, 1972
Danny Whitten was a songwriter and guitarist for Neil Young's backing band, Crazy Horse. He is also remembered as the songwriter of "I Don't Want to Talk About It", a hit for Rita Coolidge and Rod Stewart.
With Neil Young, Whitten is first heard on the 1969 album Everybody Knows This is Nowhere. Whitten plays second guitar and contributes vocals on the songs "Cinnamon Girl", "Down by the River" and "Cowgirl in the Sand." During the early phases of Neil's next solo effort, After the Gold Rush, Neil dismissed Crazy Horse, in part because of drug use. Neil wrote "The Damage and the Needle Done" during this period. The song contains direct references to Whitten's abuse of heroin.
Danny was also kicked out of the band Crazy Horse. A replacement guitarist was used on the band's two albums in 1972. Friends convinced Neil Young that Danny was off drugs, so he was rehired in October 1972. Danny began rehearsals for the Harvest tour at Young's Broken Arrow ranch, but drug use had taken its ugly toll and Danny could not play his parts. He was again fired from the band.
Danny Whitten died of a drug overdose on November 18, 1972, the same day he was fired from Crazy Horse for drug use, erratic behavior and poor performance. Neil Young bought Danny a plane ticket to Los Angeles, gave him $50 cash, and sent him on his way. Danny reportedly became inebriated on the flight and had to be restrained. He went to a friend's house where he was later found dead on the bathroom floor. An autopsy revealed that he died of an overdose of alcohol and Valium.
Neil Young's album Tonight's the Night is dedicated to Danny Whitten and roadie Bruce Berry, who died of a heroin overdose just a few months later. The album contains a captioned photo of the band with Danny's name written below the empty space where he should have stood. Danny's vocals are heard on the album's live track "Come on Baby, Let's Go Downtown", which Danny co-wrote with Neil Young. Ironically, the song's lyrics are about buying drugs: "Sure enough, they'll be selling stuff..."
Danny is also heard on Neil's 2006 release Live at the Fillmore East which was recorded in March of 1970. The live track on Tonight's the Night was taken from this performance.
| | | | | | |
| --- | --- | --- | --- | --- | --- |
| 11/11/1972 | 24 | Berry Oakley | Allman Brothers | Motorcycle Accident | Macon, Georgia |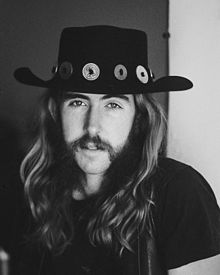 Berry Oakley
April 4, 1948 - November 11, 1972
On November 11, 1972, Berry Oakley's motorcycle collided with a city bus in Macon, Georgia, near the corner of Napier and Inverness Avenues, just three blocks from where Duane Allman had his fatal motorcycle accident the year before. Oakley said he was OK after the accident, declined medical treatment, and went back to The Big House. Just three hours later, he was taken to the hospital and there died of a skull fracture.
| | | | | | |
| --- | --- | --- | --- | --- | --- |
| 11/06/1972 | 21 | Billy Murcia | New York Dolls, drummer | Alcohol & Pills | London, England |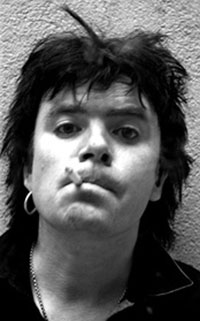 Billy Murcia
October 9, 1951 - November 6, 1972
Billy Marcia was the original drummer for the New York Dolls. He played during their now-legendary series of weekly Tuesday shows at the Mercer Arts Center.
On the group's first tour of England in 1972, he overdosed on alcohol and drugs. All night long, his girlfriend worked to keep him awake and alive, walking him continually around their hotel flat, putting him into a bathtub of cold water, and forcing black coffee into him. He died of suffocation, choking on his own vomit.
Murcia can be heard playing live with the New York Dolls on Lipstick Killers: The Mercer Street Sessions.
Johnny Thunders wrote a song called "Billy Boy" in honor of his friend and former band member.
<! #1972 #Groupie #Zappa #Drugs >
| | | | | | |
| --- | --- | --- | --- | --- | --- |
| 11/05/1972 | 22 | Christine Frka | The GTOs | Drug Overdose | Cohasset, Massachusetts |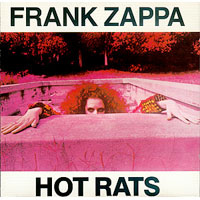 Christine Frka
November 27, 1942(?) - November 5, 1972
Christine Frka ("Miss Christine") was a member of the Girls Together Outrageously project, aka the GTO's, organized by Frank Zappa. She is seen on the cover of Frank Zappa's Hot Rats album crawling out of a crypt and in the gatefold of Todd Rundgren's "Runt."
Christine was from San Pedro, California, but after graduating high school, she and her friend Sandra Leano moved to Laurel Canyon (near Hollywood). They lived in a place known as the Log Cabin, once a roadhouse owned by cowboy actor Tom Mix, where Carl Franzoni was in residence with his commune and dance troupe. When Zappa moved back to Los Angeles in 1968 he rented the Log Cabin and Frka then became a babysitter for Zappa's daughter, Moon Unit.
Tall and skinny, with wild hair, she suffered from scoliosis (a sideways curvature of the spine) and spent much time in discomfort, often encased in a body-cast to help correct her crooked spine. Miss Christine loved clothing and made all her own using brightly colored fabrics in an eclectic style that can only be described as junkshop harlequin.
Frka suggested that Zappa give Alice Cooper a recording contract and was instrumental in establishing Cooper's early image with makeup and costumes.
In later years Frka moved to Cohasset, Massachusetts, living in a room in the band house of Jonathan Richman & The Modern Lovers. It was there that she died of an overdose, probably a combination of pentobarbital and Quaaludes.
Frka is mentioned in John Mayall's "2401" and Joni Mitchell's "Ladies of The Canyon". She is also the inspiration for song "Christine's Tune (Devil in Disguise)" by Gram Parsons' Flying Burrito Brothers.
| | | | | | |
| --- | --- | --- | --- | --- | --- |
| 08/02/1972 | 28 | Brian Cole | Association, bassist | Heroin Overdose | Los Angeles, California |
| 07/24/1972 | 24 | Bobby Ramirez | Edgar Winter, drummer | Stabbing | Chicago, Illinois |
| 07/03/1972 | 68 | Mississippi Fred McDowell | bluesman | Cancer | Memphis, Tennessee |
| 05/05/1972 | 76 | Reverend Gary Davis | bluesman | Heart Failure | Hammonton, New Jersey |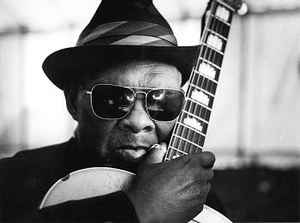 Reverend Gary Davis
April 30, 1896 - May 5, 1972
| | | | | | |
| --- | --- | --- | --- | --- | --- |
| 06/13/1972 | 39 | Clyde McPhatter | The Drifters | | New York, New York |
| 04/05/1972 | 24 | Phil King | Blue Oyster Cult | Murdered | New York, New York |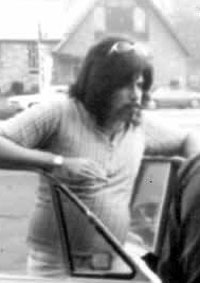 Phil King
Phil King (aka Phil Friedman), a booking agent associated with Blue Oyster Cult, was murdered during a gambling dispute in New York City. At the time, the band was playing a gig at The Funhouse in Rochester, New York. Phil was shot three times in the head.
There is some dispute about the date of Phil's murder. Some sources give the date April 27th, but this seems improbable, as the band was on tour elsewhere on this date.
His death came before the heavy metal group achieved major national success. References to Phil appear in the BOC songs "Hot Rails to Hell" and "Deadline".
| | | | | | |
| --- | --- | --- | --- | --- | --- |
| 01/28/1972 | 55 | T. Texas Tyler | Country singer/songwriter | Stomach Cancer | Springfield, Missouri |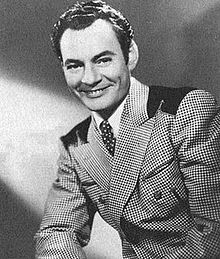 T. Texas Tyler
Born: June 20, 1916, near Mena, Arkansas
Died: January 28, 1972 in Springfield, Missouri
David Luke Myrick, better known as T. Texas Tyler was a American country sing/songwriter who achieved fame with his 1948 hit "The Deck of Cards." Other notable recordings include "Dad Gave My Dog Away", "My Bucket's Got a Hole in It", and 1954's "Courtin' in the Rain."
He was a frequent performer on the Grand Ole Opry and Louisiana Hayride, and also appeared at New York City's Carnegie Hall. He hosted his own television show in Los Angeles, California in 1950.
Following the death of his first wife, Claudia, Tyler remarried and resettled in Springfield, Missouri, where he preached to a local congregation and occasionally performed. He died in Springfield on January 28, 1972, of stomach cancer.
| | | | | | |
| --- | --- | --- | --- | --- | --- |
| 01/24/1972 | 71 | Gene Austin | crooner | Lung Cancer | Palm Springs, California |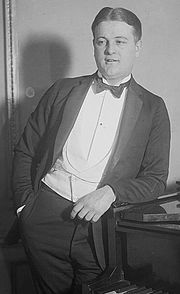 Gene Austin
Born: June 24, 1900, in Gainesville, Texas
Died: January 24, 1972 in Palm Springs, California
Gene Austin (born Lemeul Eugene Lucas) was a tenor singer popular in the early days of radio during the 1920s and 1930s.
His sold more than 86 million copies of his recordings. One record alone, "My Blue Heaven" (1927), sold over 12 million copies. His notable compositions include "When My Sugar Walks Down the Street" (recorded by Duke Ellington) and "The Lonesome Road" - both pop and jazz standards.
Austin appeared in several films, including Belle of the Nineties, Klondike Annie, Sadie McKee (1934), and My Little Chickadee (1940, starring Mae West and W.C. Fields).
Austin was married five times. Country music singer Tommy Overstreet, who had his biggest hits in the 1970s, is Austin's third cousin.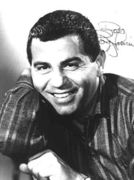 Ross Bagdasarian
January 27, 1919 - January 16, 1972

Ross Bagdasarian was a songwriter, singer and actor of Armenian ethnic heritage. Under his stage name of David Seville, he wrote songs for Rosemary Clooney and Dean Martin. He had a #1 hit in 1959 with "The Witch Doctor," his first experiment with speeding up tape playback to create a high-pitched, squeaky sound. This success led to his recording of "The Chipmunk Song (Christmas Don't Be Late)" with The Chipmunks in 1959. The Chipmunks went on to sell millions of records and win several Grammy awards.

The Chipmunks are named after executives of their original record label, Liberty Records: Alvin Bennett (the president), Simon Waronker (the founder and owner), and Theodore Keep (the chief engineer).

The singing Chipmunks were given life in several animated TV shows and motion pictures. In 2007, the live-action/computer-generated feature length movie Alvin and the Chipmunks was released. The movie portrays a Los Angeles songwriter who discovers the Chipmunks and saves them from evil music executives.

Bagdasarian also appeared in minor film roles, including Alfred Hitchcock's Rear Window (1954), in which he plays an obsessed piano-playing songwriter.

<! #1971 #Fire #Disaster >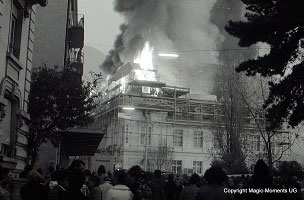 "Smoke on the Water"
December 4, 1971
Montreux Casino Theater
Montreux, Switzerland
Frank Zappa and the Mothers of Invention played a concert at the Montreux Casino on Saturday afternoon, December 4, 1971. About 80 minutes into the show, near the beginning of Don Preston's synthesizer solo on "King Kong", the theater caught fire when an audience member fired a flare gun into the ceiling. One of the two flares fired apparently got stuck in the rattan covered ceiling, starting a fire. Attempts to stop the flames with a fire extinguisher failed. The fire spread very quickly and the entire casino complex soon burned to the ground, destroying all of the band's equipment (save 1 cowbell). Fortunately, there were no major injuries and all of the approximately 2000 audience and band members escaped.
The fire was believed to have been started by a Czech refugee named Zdenek Spicka who apparently fled Switzerland after the incident and was never prosecuted.
Bootlegs live recordings of this show are known to exist. On the recordings, the music stops and musician Howard Kaylan (ex-The Turtles) jokingly announces from the stage: "Fire, ladies and gentlemen, by Arthur Brown" - a reference to the massive 1968 hit single Fire by The Crazy World of Arthur Brown. Zappa then spoke, urging "calmly go toward the exit ladies and gentlemen."
Deep Purple's song "Smoke on the Water" recounts the story of this fire. The song's reference to "Funky Claude running in and out" refers to Claude Nobs, the director of the Montreux Jazz Festival who helped some of the audience escape the fire.
The Casino was later rebuilt as a modern glass and steel structure. Incorporated into the grounds is a wall sculpture along the lake shore (right next to the statue of Queen frontman Freddie Mercury) inscribed "Deep Purple - Smoke on the Water" and with the riff expressed in musical notes. Additionally, inside the casino, notes from the riff are displayed on a balustrade facing the gambling hall.
| | | | | | |
| --- | --- | --- | --- | --- | --- |
| 10/29/1971 | 24 | Duane Allman | Allman Brothers | Motorcycle Accident | Macon, Georgia |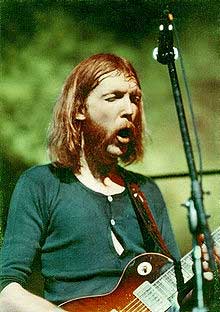 Duane Allman
"Skydog"
November 20, 1946 - October 29, 1971
Howard Duane Allman, guitarist, was co-founder of the Allman Brothers Band. As an established session guitarist, he also played with Rock Royalty and made contributions to recordings that are the foundation of rock music, notably Layla and Other Assorted Love Songs by Derek and the Dominos.
Duane Allman first played publicly in 1961. With his brother, Gregg, they played with a number of local groups. Their band the Escorts opened for the Beach Boys in 1965, but disbanded and eventually became the Allman Joys. This band morphed into the The Hour Glass, which moved to Los Angeles in early 1967. Some of these early songs can be heard on the Allman Brother's Boxed set, Dreams.
The Hour Glass broke up in early 1968, and Duane and Gregg Allman went back to Florida, where they played on demo sessions with the 31 February, a folk rock outfit whose drummer was Butch Trucks. Duane became a Muscle Shoals, Alabama, session player, first appearing on an album with Wilson Pickett. Allman's work on that album, Hey Jude (1968), got him hired as a full-time session musician at Muscle Shoals and brought him to the attention of a number of other musicians, such as guitar great Eric Clapton. While at Muscle Shoals, Allman was featured on releases by a number of artists, including Clarence Carter, King Curtis, Aretha Franklin, Laura Nyro, Wilson Pickett, Otis Rush, Percy Sledge, Johnny Jenkins, Boz Scaggs, Delaney & Bonnie and jazz flautist Herbie Mann.
The Allman Brothers band formed in March 1969, when Gregg was called back from Los Angeles. The sextet (with Butch Trucks, Dickey Betts and Jaimoe Johanson) moved to Macon Georgia to be near Capricorn Sound Studios and their manager, Phil Walden. The Allman Brothers Band went on to become one of the most influential rock groups of the 1970s.
Duane Allman suffered a fatal motorcycle accident in Macon, Georgia, when his Harley-Davidson motorcycle crashed into a tractor-trailer carrying logs. The accident occurred on the west side of Macon at the intersection of Hillcrest and Bartlett streets. He died during surgery at the hospital and is buried at Rose Hill cemetery in Macon Georgia, next to Berry Oakley, who died in a similar motorcycle accident only 13 months later. Respectful fans may visit their gravesites, overlooking the Ocmulgee River, during daylight hours.
| | | | | | |
| --- | --- | --- | --- | --- | --- |
| 10/12/1971 | 36 | Gene Vincent | Vincent Eugene Craddock | Ulcer | Los Angeles, California |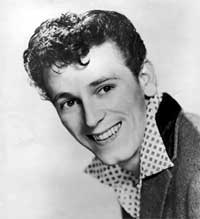 Gene Vincent
February 11, 1935 - October 12, 1971
Born Vincent Eugene Craddock in Norfolk Virginia, he changed his name to Gene Vincent when he formed a rockabilly band he named the Blue Caps (a term in reference to his time with the US Navy). He left the Navy after a 1955 motorcycle accident resulted in a crippling leg injury.
Gene Vincent and his Blue Caps included Willie Williams on rhythm guitar, Jack Neal on upright bass, Dickie Harrell on drums, Paul Peek singer/guitar and lead guitarist, Cliff Gallup. In 1956, he wrote "Be-Bop-A-Lula", by far his biggest hit, and signed a publishing contract with Bill Lowery of The Lowery Group of music publishers in Atlanta, Georgia. He landed a deal with Capitol records.
Vincent appeared in the 1956 Jayne Mansfield film The Girl Can't Help It, considered one of the earliest rock and roll movies. Little Richard, Fats Domino, and Eddie Cochran also appear in the movie.
Finding his career declining in the United States, Vincent moved to England and signed with promoter Don Arden. On April 16, 1960, Vincent broke his ribs and collarbone and further damaged his weakened leg in the same car crash outside London that killed Eddie Cochran.
Vincent died on October 12, 1971 from a ruptured stomach ulcer and is interred in the Eternal Valley Memorial Park, Newhall, California.
Gene Vincent was inducted into the Rock and Roll Hall of Fame in 1998 and has a star on the Hollywood Walk of Fame.
| | | | | | | |
| --- | --- | --- | --- | --- | --- | --- |
| 08/13/1971 | 37 | Curtis Ousley | saxophonist | Stabbed in a fight | New York, New York | |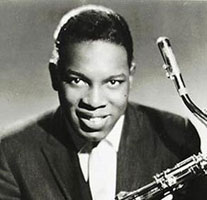 King Curtis
February 7, 1934 - August 13, 1971
King Curtis (born Curtis Ousley in Fort Worth Texas) was murdered in 1971 by junkies he asked to move off the front stoop of his Harlem brownstone. He was Aretha Franklin's musical director and a prolific session man who played with many big names, including Eric Clapton, Wilson Pickett, and the Allman Brothers. Duane Allman played at Curtis' star-studded funeral along with Aretha Franklin and Stevie Wonder. Allman also incorporated Curtis' "Soul Serenade" into a blistering version of "You Don't Love Me". This can be found on the excellent "Dreams" 4-CD box set.
Tragically, Duane Allman died only 10 weeks later when his motorcycle collided with a log truck.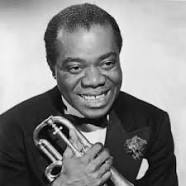 Louis Armstrong
August 4, 1901 - July 6, 1971
Louis Daniel Armstrong, American jazz trumpeter and one of the most influential figures in jazz, died at age 69 after a five decade career.
Louis Armstrong, nicknamed "Satchmo", was born and raised in New Orleans. Around 1922, he followed his mentor, Joe "King" Oliver, to Chicago to play in the Creole Jazz Band. In Chicago, he spent time with other popular jazz musicians, reconnecting with his friend Bix Beiderbecke and spending time with Hoagy Carmichael and Lil Hardin. He earned a reputation at "cutting contests", and relocated to New York to join Fletcher Henderson's band.
Armstrong appeared in films such as High Society (1956) alongside Bing Crosby, Grace Kelly, and Frank Sinatra, and Hello, Dolly! (1969) starring Barbra Streisand. He received many accolades including three Grammy Award nominations and a win for his vocal performance of Hello, Dolly! in 1964.
Armstrong suffered a fatal heart attack in his sleep on July 6, 1971. He was interred in Flushing Cemetery, Flushing, in Queens, New York City.
In 1972, Armstrong was posthumously awarded the Grammy Lifetime Achievement Award by the Academy of Recording Arts and Sciences.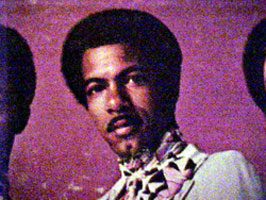 Donald McPherson
July 9, 1941 - July 4, 1971
McPherson was the original lead singer of the R&B group, The Main Ingredient. The group formed in Harlem, New York, in 1964, with members including Luther Simmons, Jr. and Tony Silvester. First calling themselves, Trio, they released several unsuccessful recordings before they joined the writing team of Leiber & Stoller. The group then changed their name to The Insiders and then finally to The Main Ingredient when they began recording for RCA in 1966.
In 1970, the trio had their first Top 30 hit, 'You've Been My Inspiration,' and other hits soon followed, including 'I'm So Proud,' and the Top Ten hit, 'Spinning Around (I Must Be Falling In Love).' Their biggest hit was the 1972 song 'Everybody Plays The Fool'.
On July 4, 1971, McPherson died from the effects of leukemia at the age of 29.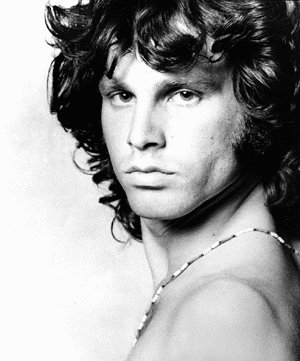 Jim Morrison
"The Lizard King"
December 8, 1943 - July 3, 1971
Jim Morrison was an American singer/songwriter/poet and lead singer of The Doors.
| | | | | | |
| --- | --- | --- | --- | --- | --- |
| 02/02/1971 | 27 | Devon Wilson | Jimi Hendrix, groupie | | New York, New York |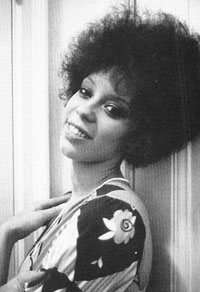 Devon Wilson
1943 - February 2, 1971
Devon Wilson was a girlfriend of Jimi Hendrix and is thought to be the inspiration for his song "Dolly Dagger."
Devon has also had relationships with Eric Clapton, Mick Jagger and jazz great Miles Davis. She was a good friend of Betty Davis, Milse Davis' second wife. Betty Davis' debut album includes the song "Steppin' In Her I. Miller Shoes" which is based on the life of Devon Wilson.
Wilson died when she jumped from the 8th floor balcony of her room at New York's infamous Chelsea Hotel.
Member of the "Forever 27" Club.
| | | | | | |
| --- | --- | --- | --- | --- | --- |
| 04/24/1970 | 40 | Otis Spann | blues pianist | Liver Cancer | Chicago, Illinois |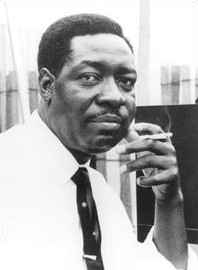 Otis Spann
Born: March 21, 1930, Jackson Mississippi
Died: April 24, 1970, Chicago, Illinois
Otis Spann is regarded as one of the best blues piano players of his day. Spann's father was reportedly a pianist called Friday Ford. His mother, Josephine Erby, was a guitarist who had worked with Memphis Minnie and Bessie Smith.
In 1946, he relocated to Chicago and by the early 1950s became a member of the Muddy Waters band.
Spann's work for Chess Records includes the 1954 single "It Must Have Been the Devil" / "Five Spot", with B.B. King and Jody Williams on guitars. He played on a few of Chuck Berry's early records, including the studio version of "You Can't Catch Me".
He also recorded with Bo Diddley, Howlin' Wolf, Eric Clapton, James Cotton and Fleetwood Mac. His solo albums included "Otis Spann Is The Blues" (1960) and "The Blues Is Where It's At" (1966).
Spann died of liver cancer in Chicago, Illinois, at age 40. He was buried in the Burr Oak Cemetery, in Alsip, Illinois. His grave was unmarked until June 1999, when a gravestone was installed thanks to funds raised by readers of Blues Revue Magazine.
| | | | | | |
| --- | --- | --- | --- | --- | --- |
| 03/16/1970 | 24 | Tammi Terrell | Singer/Songwriter | Brain Tumor | Philadelphia, Pennsylvania |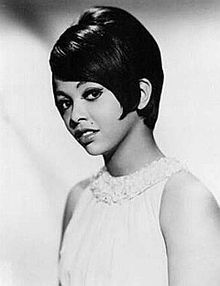 Tammi Terrell
April 29, 1945 - March 16, 1970
Tammi Terrell (born Thomasina Winifred Montgomery) was an American recording artist, widely known as a star singer for Motown Records during the 1960s, notably for a series of duets with singer Marvin Gaye.
| | | | | | |
| --- | --- | --- | --- | --- | --- |
| 01/31/1970 | 46 | Slim Harpo | bluesman | Heart attack | Baton Rouge, Louisiana |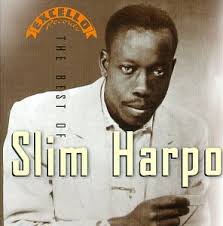 Slim Harpo
January 11, 1924 - January 31, 1970
James Isaac Moore, better known as Slim Harpo, was an American blues musician who recorded for Excello Records. His most successful recordings included "I'm a King Bee" (1957), "Rainin' In My Heart" (1961), and "Baby Scratch My Back" (1966).
Slim Harpo's brother-in-law was Lightnin' Slim.
| | | | | | |
| --- | --- | --- | --- | --- | --- |
| 01/17/1970 | 32 | Billy Stewart | R&B Singer | Car Accident | Selma, North Carolina |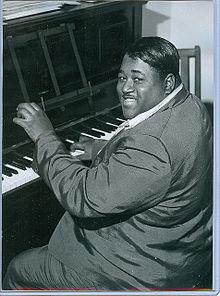 Billy Stewart
March 24, 1937 - January 17, 1970
Billy Stewart was a Rhythm & Blues singer with a highly distinctive scat style. After reportedly being discovered playing piano by Bo Diddley in Washington DC, he was offered a recording contract with Chess records. In the 1960's he had hits with "I Do Love You" and "Sitting in the Park."
Stewart and three members of his band, The Soul Kings, died in a tragic car accident when the car he was driving crashed off a bridge and into the Neuse River near Selma, North Carolina. The new car was reportedly experiencing brake problems. Killed in the crash were Billy Stewart, Norman Rich, Rico Hightower and William Cathey.
---
© Steve Covault, all rights reserved.
E-MAIL for information.
---