"Blind Willie" McTell was famous for his clear voice and 12-string finger picking country blues style. His song "Statesboro Blues" was covered by the Allman Brothers Band and remains an essential staple in rock and blues music.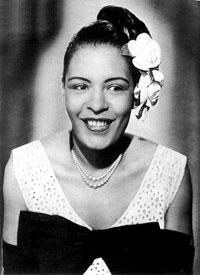 Billie Holiday
April 7, 1915 - July 17, 1959
Billie Holiday (born Eleanora Fagan) was an influential American jazz singer. She also became famous for singing "Easy Living", "Good Morning Heartache", and "Strange Fruit", a protest song which was made famous with her 1939 recording.
| | | | | | |
| --- | --- | --- | --- | --- | --- |
| 02/03/1959 | 22 | Buddy Holly | Crickets | Plane Crash | Clear Lake, Iowa |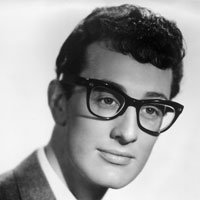 Buddy Holly
September 7, 1936 - February 3, 1959
Buddy Holly was a pioneer of rock and roll. Although his success lasted only 18 months before his death in a tragic plane crash on February 3, 1959 (The Day the Music Died), he left a legacy that continues to influence popular music today.
Born Charles Hardin Holley, in Lubbock Texas, on Labor Day, 1936, he exhibited musical talent at an early age. His older brothers taught Buddy to play, enabling Buddy to win a talent show at age 5.
After seeing Elvis Presley in concert in 1955, Buddy began to incorporate a rockabilly style in his guitar playing. Later that year, he opened for Elvis at a Lubbock show. Buddy's performance that evening caught the attention of a Nashville talent scout. He soon signed a contract with Decca records, which misspelled his name as "Holly." He adopted the misspelled name and formed his own band, which would later become the Crickets. The band consisted of Holly (lead guitar and vocals), Niki Sullivan (guitar), Joe B. Mauldin (bass), and Jerry Allison (drums).
The Crickets performed "That'll Be the Day" and "Peggy Sue" on The Ed Sullivan Show on December 1, 1957.
Holly was offered a spot in the Winter Dance Party by the GAC agency, a three-week tour across the Midwest opening on January 23, 1959, with other notable performers such as Dion and the Belmonts, Ritchie Valens, and J. P. "The Big Bopper" Richardson. He assembled a backing band consisting of Tommy Allsup (guitar), Waylon Jennings (bass) and Carl Bunch (drums) and billed as The Crickets.
Buddy is memorialized in the Don McLean Song, "American Pie," which refers to the plane crash as "The Day The Music Died."
He was among the very first group of inductees into the Rock and Roll Hall of Fame.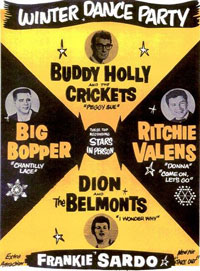 The Day The Music Died
| | | | | | |
| --- | --- | --- | --- | --- | --- |
| 8/14/1958 | 60 | Big Bill Broonzy | blues singer/songwriter | Throat Cancer | Chicago, Illinois |
| 4/10/1958 | 32 | Chuck Willis | blues singer/songwriter | peritonitis | Chicago, Illinois |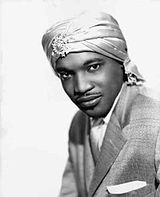 Chuck Willis
January 31, 1926 – April 10, 1958
Harold Jerome "Chuck" Willis was an American blues singer and songwriter. His biggest hits were "C. C. Rider" (1957) and "What Am I Living For" (1958). He was known as The King of the Stroll for his performance of the 1950s dance the stroll.
Willis performed wearing a turban (a gimmick suggested to him by his friend Screamin' Jay Hawkins) and was also known as the "Sheik of Shake."
| | | | | | |
| --- | --- | --- | --- | --- | --- |
| 03/28/1958 | 84 | W. C. Handy | "The Father of the Blues" | bronchial pneumonia | New York, New York |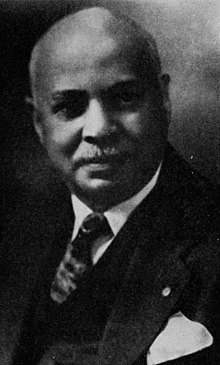 W. C. Handy
November 16, 1873 - March 28, 1958
W. C. Handy was a songwriter who helped popularize the blues as a music form. He was the first to publish blues music, which up until his time had been an American regional musical style with a limited audience. He is called, fittingly, "The Father of the Blues."
Handy's most famous recording is "St. Louis Blues," but he also recorded "Beale Street Blues" and "Memphis Blues."
On March 28, 1958, Handy died of bronchial pneumonia at Sydenham Hospital in New York City. In his honor, a bronze statue of his likeness is featured in Handy Park, Beale Street, Memphis, Tennessee.
His legacy continues at an annual music showcase, the W.C. Handy Music Festival, held in his hometown of Florence, Alabama.
The Marc Cohn hit song "Walking in Memphis" features a shout-out to W.C. Handy.
| | | | | | |
| --- | --- | --- | --- | --- | --- |
| 02/01/1958 | 55 | John Dolphin | Music Store Owner/record label owner, concert promoter | Murdered | Los Angeles, California |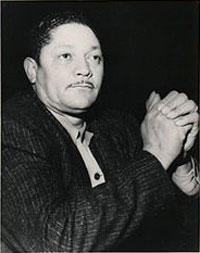 John Dolphin
April 9, 1902 - February 1, 1958
| | | | | | |
| --- | --- | --- | --- | --- | --- |
| 11/01/1956 | 60 | Tommy Johnson | delta blues musician | Heart Failure | Crystal Springs, Mississippi |
| 03/12/1955 | 34 | Charlie "Bird" Parker | jazz saxophonist | | New York, New York |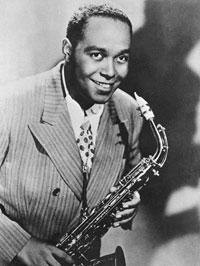 Charlie "Bird" Parker
August 29, 1920 - March 12, 1955
| | | | | | |
| --- | --- | --- | --- | --- | --- |
| 12/25/1954 | 25 | Johnny Ace | R & B singer, pianist | Russian Roulette | Houston, Texas |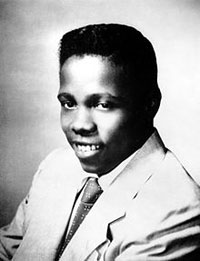 Johnny Ace
June 9, 1929 - December 25, 1954
Johnny Ace, a promising black R&B singer in the early 1950's, accidentally shot and killed himself while playing Russian roulette backstage on Christmas day 1954. His last words, to Willie Mae "Big Mama" Thornton, were "I'll show you that it won't shoot."
Ace's recordings continued to gain popularity after his death and he was immortalized in the song "The Late Great Johnny Ace" by Paul Simon, from his Hearts And Bones album.
Singer/songwriter Dave Alvin penned a song "Johnny Ace is Dead" which appears on his 2011 album Eleven Eleven. He often performs this song during his live appearances.
| | | | | | |
| --- | --- | --- | --- | --- | --- |
| 6/17/1954 | 33 | Danny Cedrone | guitarist | Fell Down Stairs | Philadelphia, Pennsylvania |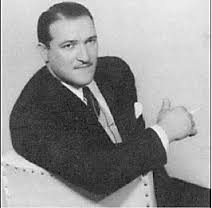 Danny Cedrone
June 20, 1920 – June 17, 1954
Donato Joseph "Danny" Cedrone was an American guitarist best known for his session work with Bill Haley & His Comets on their 1954 recordings of "Rock Around the Clock" and "Shake, Rattle and Roll."
Just 10 days after recording "Shake, Rattle and Roll" Cedrone fell down a flight of stairs and broke his neck, dying instantly on June 17, 1954. Eight months after his death, "Rock Around the Clock" was included on the opening credits of the film Blackboard Jungle and became the first rock and roll recording to hit the top of the American charts.
Cedrone was inducted into the Rock and Roll Hall of Fame in 2012.
| | | | | | |
| --- | --- | --- | --- | --- | --- |
| 05/16/1953 | 43 | Jean "Django" Reinhardt | Belgian Gypsy jazz guitarist | | Fontainebleau, France |
| 01/01/1953 | 29 | Hank Williams | father of contemporary country music | Heart Failure | Oak Hill, West Virginia |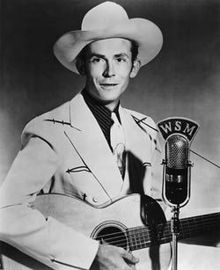 Hank Williams
September 17, 1923 – January 1, 1953
Hiram King "Hank" Williams, considered to be the father of contemporary country music, died in the back seat of a powder blue Cadillac at the young age of 29. His music inspired generations of country performers, including his son, Hank Williams Jr., and grandson Hank Williams III.
Hank Williams may be the most recorded songwriter in the history of country music. He scored dozens of hits with country classics such as "Your Cheatin' Heart", "Hey Good Lookin'", "I'm So Lonesome I Could Cry", "Cold, Cold Heart" and many others.
Born September 17, 1923 in Mount Olive, Butler County, Alabama, with the birth defect spinal bifida, causing weakness in his back, limiting his physical options. He developed an early interest in singing and music. Age about age 8, his mother bought him a guitar and he learned how to perform songs from Rufus "Tee Tot" Payne.
In December 1944, Williams married Audrey Sheppard at a Texaco gas station in Andalusia, Alabama. On May 26, 1949, the couple had their only child together, Randall Hank Williams (later renamed Hank Williams, Jr.)
In 1948 he released "Move It on Over" on MGM Records. The song became a hit. He moved to Shreveport, Louisiana, and he joined the Louisiana Hayride, a radio show popular throughout the Southeast. In 1949 he released his version of the 1922 Cliff Friend & Irving Mills song "Lovesick Blues", made popular by Rex Griffin. Williams' version became a huge country hit; the song stayed at number one on the Billboard charts over four consecutive months, crossing over to mainstream audiences and gaining Williams a place in the Grand Ole Opry.
Williams and Sheppard divorced in June 1952, after allegations of mutual infidelities and alcohol abuse. Williams was dismissed by the Grand Ole Opry because of his unreliability and alcohol abuse.
Back problems resulting from his spinal bifida eventually required a spinal fusion surgery and left Williams with frequent back pain. Prescription painkillers were prescribed and he often required morphine shots to control the pain.
Years of alcohol and prescription drug abuse resulted in Williams' death of heart failure. He died in the early morning hours of January 1st, 1953, sleeping in the back seat of a Cadillac while enroute to a New Year's day gig in Canton, Ohio. It is estimated that 20,000 people attended his funeral at the City Auditorium in Montgomery, Alabama.
| | | | | | |
| --- | --- | --- | --- | --- | --- |
| 1/28/1950 | 44 | Wilbur "Kansas Joe" McCoy | blues musician | Heart Disease | Chicago, Illinois |
| 12/06/1949 | 61 | Lead Belly | blues musician | Lou Gehrig's disease | New York, New York |
| 11/25/1949 | 71 | Bill Robinson | Mr. Bojangles, tapdancer / actor | Heart Failure | New York, New York |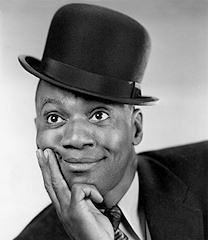 Bill "Bojangles" Robinson
May 25, 1878 - November 25, 1949
Bill "Bojangles" Robinson was an American tap dancer and actor who performed Vaudeville, on Broadway and in the movies.
Despite being the highest-paid black performer of the first half of the twentieth century, earning more than US $2 million during his lifetime, Robinson died penniless in 1949. His funeral was arranged and paid for by longtime friend and television host Ed Sullivan.
While Jerry Jeff Walker's 1968 folk song "Mr. Bojangles" is often thought to be about Robinson, it was actually inspired by Walker's encounter with a white street performer in the New Orleans first precinct jail who used Robinson's stage name as an alias.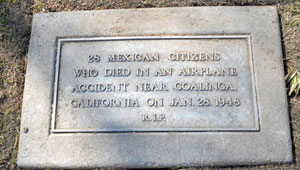 Plane Wreck at Los Gatos
January 28, 1948
A January 28, 1948 plane crash in Los Gatos Canyon (about 20 miles west of Coalinga, California) claimed the lives of 32 people, including 4 Americans and 28 Mexican migrant farm workers who were being deported from California.
The crash inspired Woody Guthrie to write a poem, lamenting that press coverage of the event did not give the Mexican victim's names, but instead referred to them only as "deportees." In his poem, Guthrie assigned names to the dead: "Goodbye to my Juan, goodbye Rosalita; adiós, mis amigos, Jesús y María."
Eventually, Guthrie's poem was set to music by a schoolteacher named Martin Hoffman. The song was recorded and popularized by folk singer Pete Seeger, but was recorded by many musicians including the Kingston Trio, Judy Collins, The Byrds, Joan Baez, Dolly Parton and Hoyt Axton.
The Mexican victims of the accident were placed in a mass grave at Holy Cross Cemetery in Fresno, California. There were 27 men and one woman.
| | | | | | |
| --- | --- | --- | --- | --- | --- |
| 01/26/1948 | 80 | John A. Lomax | ethnomusicologist | Stroke | |
| 11/09/1945 | 48 | Frank Hutchison | Blues guitarist | Liver failure | Dayton, Ohio |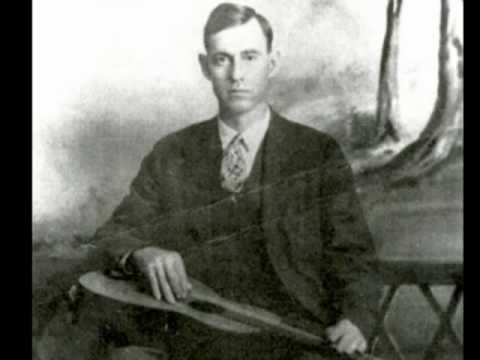 Frank Hutchison
March 20, 1897 - November 9, 1945
Frank Hutchison was a blues guitarist and songwriter from West Virginia. He was best known as a slide guitar player, where he held the guitar in his lap.
Hutchison is considered to be the first white rural guitarist to record the blues. He recorded for Okeh Records when he was not working as a coal miner. One of his more famous recordings is "The Train That Carried My Girl From Town." Hutchison's recording of "Stack A Lee", included on Harry Smith's 1952 Anthology of American Folk Music, influenced many folk artists, including Bob Dylan.
| | | | | | |
| --- | --- | --- | --- | --- | --- |
| 08/05/1945 | 27 | Nat Jaffe | swing jazz pianist | high blood pressure | New York, New York |
| 12/15/1944 | 40 | Glenn Miller | trombonist | Plane Crash | English Channel |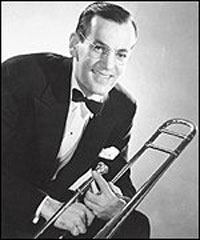 Glenn Miller
March 1, 1904 - presumably December 15, 1944
Alton Glenn Miller, known for hits such as "String of Pearls", was an American jazz musician and bandleader. He is widely recognized as one of the genre's best-selling performers from 1939 to 1942 and fronted one of the most well-known "Big Bands." During World War II, while traveling to entertain U.S. troops in France, his plane disappeared in bad weather. His body was never found.
It is now thought that Glenn Miller's plane was accidentally bombed by RAF bombers over The English Channel, after an abortive air raid on Germany and a dumping of the live bombs in a "safe" drop zone. The logbooks of Royal Air Force pilot Fred Shaw record that a small mono-engined plane was seen to spiral out of control and crash into the water.
| | | | | | |
| --- | --- | --- | --- | --- | --- |
| 12/15/1943 | 39 | Fats Waller | jazz pianist | | Kansas City, Missouri |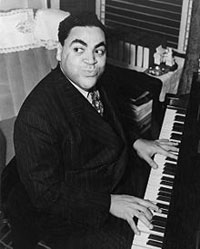 Fats Waller
May 21, 1904 - December 15, 1943
Thomas Wright "Fats" Waller was a jazz pianist, organist, composer, singer, and comedic entertainer. His best-known compositions include "Ain't Misbehavin'", "Squeeze Me" and "Honeysuckle Rose."
Waller contracted pneumonia and died on a cross-country train trip near Kansas City, Missouri, on December 15, 1943.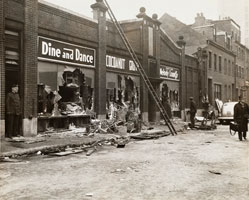 Cocoanut Grove fire
November 28, 1942, around 10:15 PM
The Cocoanut Grove was Boston's premier nightclub during the post-Prohibition 1930s and 1940s. On November 28, 1942, this club was the scene of a tragic fire that killed 492 people and injured hundreds more. The enormity of the tragedy shocked the nation and briefly replaced the events of World War II in newspaper headlines. It led to a reform of safety standards and codes across the country, and major changes in the treatment and rehabilitation of burn victims.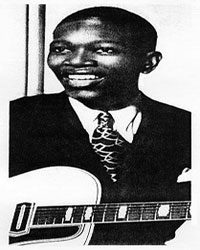 Charlie Christian
July 29, 1916 – March 2, 1942
Charlie Christian was an important early performer on the electric guitar and a key figure in the development of bebop and cool jazz. He gained fame as a member of the Benny Goodman Sextet and Orchestra.
In 1990, he was inducted into the Rock and Roll Hall of Fame in the category Early Influence.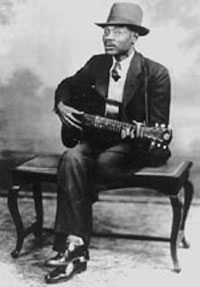 Blind Boy Fuller
July 10, 1907 - February 13, 1941
Blind Boy Fuller (born Fulton Allen) was a Piedmont blues guitarist and vocalist. He was associated with other popular blind blues artists including Reverend Gary Davis, Blind Willie McTell, Sonny Terry and Blind Blake.
He recorded with Floyd Council and Sonny Terry, among others.
In 1938 Fuller, who was described as having a fiery temper, was imprisoned for shooting his wife, wounding her in the leg. He was soon released, but later wrote a song - "Big House Bound"- about his time in jail.
Fuller's repertoire included a number of popular double entendre "hokum" songs such as "I Want Some Of Your Pie", "Truckin' My Blues Away" (the origin of the phrase "keep on truckin'"), and "Get Your Yas Yas Out" (the origin of a later Rolling Stones album title).
Fuller underwent a kidney operation in 1940, probably an outcome of excessive drinking, but continued to require medical treatment. He died either from a bladder infection, blood poisoning or pneumonia. He was so popular that after his death, his protégé Brownie McGhee recorded "The Death of Blind Boy Fuller" for the Okeh label, and then reluctantly began a short lived career as Blind Boy Fuller No. 2 so that Columbia Records could cash in on his popularity.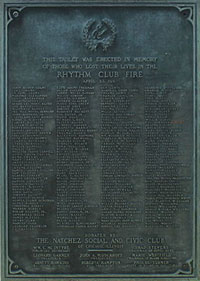 Rhythm Club fire
April 23, 1940
The Rhythm Club fire (AKA The Natchez Dance Hall Holocaust) was a tragic fire that occured in a dance hall in Natchez, Mississippi, on the night of April 23, 1940.
As Walter Barnes and His Royal Creolians, an orchestra from Chicago, were playing, a fire started near the entrance to the hall and, fed by Spanish moss that had been draped over interior's rafters as a decoration, quickly engulfed the structure. The fire killed 209 people and severely injured many others. Bandleader Walter Barnes and nine members of his band were among the victims.
Blues songs such as "The Natchez Burning" and "The Mighty Fire" memorialize the event.
| | | | | | |
| --- | --- | --- | --- | --- | --- |
| 03/17/1939 | 56 | Rufus Payne | blues musician | | Montgomery, Alabama |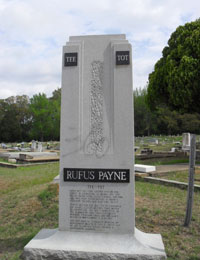 Rufus Payne
February 4, 1883 - March 17, 1939
Rufus "Tee Tot" Payne was a blues musician from Greenville, Alabama.
Tee Tot is best known for teaching Hank Williams how to play guitar.
Payne died at a charity hospital in Montgomery, Alabama on March 17, 1939 at the age of 56. Payne is buried at Lincoln Cemetery in Montgomery. The exact location of his grave is unknown, but a cenotaph near the entrance to the cemetery is a tribute to him. The memorial marker was paid for by Hank Williams Jr. and other members of the Grand Ole Opry.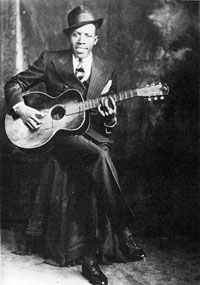 Robert Johnson
May 8, 1911 - August 16, 1938
Robert Johnson was an American blues singer and guitarist who widely influenced later generations of musicians.
Robert Johnson died near Greenwood Mississippi at age 27. The exact circumstances of his death are unclear, but the most popular story is that Johnson was flirting with the wife of a juke joint owner at a country dance. Johnson apparently accepted an open bottle of whiskey that had been laced with strychnine. Witnesses report Johnson began feeling ill and died three days later in a convulsive state of severe pain.
| | | | | | |
| --- | --- | --- | --- | --- | --- |
| 09/26/1937 | 43 | Bessie Smith | blues singer | car accident | Clarksdale, Mississippi |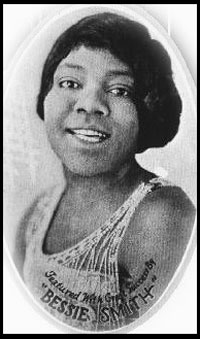 Bessie Smith
Empress of the Blues
April 15, 1894 - September 26, 1937
Bessie Smith was an influential and popular American blues singer, popular in the 1920s and 1930s. She influenced a generation of Jazz and Blues singers and is a member of the Rock and Roll Hall of Fame.
She recorded a number of well-known blues songs. One noteworthy song is "Nobody Knows You When You're Down and Out,", written by Jimmy Cox in 1923 and recorded and popularized by Smith in 1929. The song has been recorded numerous times since, including covers by famed artists such as Odetta, Lead Belly, Dave Van Ronk and Janis Joplin. Eric Clapton's recording of the song with Derek and the Dominoes may be the best known contemporary version of the song.
Overall, Smith made 160 recordings for Columbia Records, often accompanied by the finest musicians of the day, including Louis Armstrong, Coleman Hawkins, Fletcher Henderson, James P. Johnson, Joe Smith, and Charlie Green.
Smith was critically injured in a car accident when traveling along U.S. Route 61 between Memphis, Tennessee, and Clarksdale, Mississippi (the "Blues Highway"). Her lover, Richard Morgan (Lionel Hampton's uncle) was driving her Packard when he side-swiped a truck, resulting in injuries to Smith's right side. She was taken to the G. T. Thomas Afro-American Hospital in Clarksdale, where her right arm was amputated. She died without regaining consciousness.
Bessie Smith was buried in a Pennsylvania grave that remained unmarked until a tombstone was erected in 1970. The monument was paid for by Janis Joplin and Juanita Green, who as a child had done housework for Smith.
| | | | | | |
| --- | --- | --- | --- | --- | --- |
| 07/11/1937 | 38 | George Gershwin | composer and pianist | Brain Tumor | Los Angeles, California |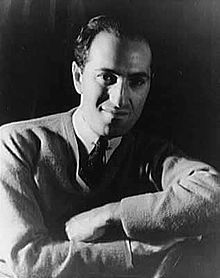 George Gershwin
September 26, 1898 - July 11, 1937
George Gershwin was an American composer and pianist whose popular and classical compositions are still loved today.
His best known compositions include Rhapsody in Blue (1924), An American in Paris (1928), and the opera Porgy and Bess (1935).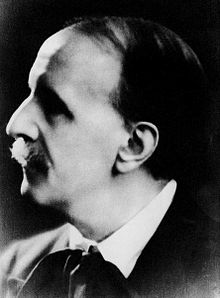 Louis Vierne
October 8, 1870 - June 2, 1937
Louis Vierne was a French organist and composer. He was the organist at Notre Dame in Paris from 1900 until his death 37 years later. Louis was born nearly blind due to congenital cataracts.
On June 2, 1937, Vierne gave his 1,750th organ recital at Notre-Dame. He completed the main concert, playing his "Stele pour un enfant défunt" from his Triptyque, Op. 58. The closing section was to be two improvisations on submitted themes. He read the first theme in Braille, then selected the stops he would use for the improvisation. He suddenly pitched forward, and fell off the bench as his foot hit the low "E" pedal of the organ. He lost consciousness as the single note echoed throughout the church.
He had thus fulfilled his oft-stated lifelong dream — to die at the console of the great organ of Notre-Dame.
| | | | | | |
| --- | --- | --- | --- | --- | --- |
| 04/18/1936 | 32 | Milton Brown | "King of Western Swing" | Car Accident | Crystal Springs, Texas |
| 12/01/1934 | 40 | Blind Blake | blues singer and guitarist | ? | Milwaukee, Wisconsin |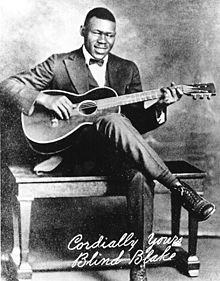 Blind Blake
1896 - December 1, 1934
| | | | | | |
| --- | --- | --- | --- | --- | --- |
| 04/28/1934 | 42 | Charley Patton | "Father of the Delta Blues" | Heart Failure | Indianola, Mississippi |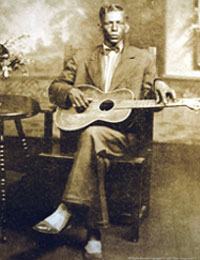 Charley Patton
April 1891 (?) - April 28, 1934
Charley Patton (AKA Charlie Patton) was an American Delta Blues musician. His vast importance in the blues genre has labeled him the "Father of the Delta Blues."
Born in Hinds County, Mississippi, near the town of Edwards, he influenced many of the blues performers in his area, including Willie Brown, Tommy Johnson, Fiddlin' Joe Martin, Robert Johnson, and Chester Burnett – who went on to gain fame in Chicago as Howlin' Wolf.
Patton died on the Heathman-Dedham plantation, Sunflower County, near Indianola, Mississippi on April 28, 1934. He is buried in the nearby town of Holly Ridge. His death certificate states that he died of a mitral valve disorder.
In July 1990, a memorial headstone was erected on Patton's grave, paid for by musician John Fogerty through the Mt. Zion Memorial Fund.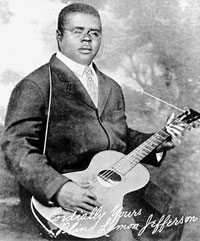 Blind Lemon Jefferson
September 24, 1893 - December 19, 1929
Lemon Henry "Blind Lemon" Jefferson was an American blues and gospel singer and songwriter. He was one of the most popular blues singers of the 1920s and has been called the "Father of the Texas Blues." His distinctive style helped influence the coming generation of rock and blues musicians.
Jefferson's popular recordings include "Matchbox Blues", "Black Snake Moan" and "See That My Grave Is Kept Clean".
He died in Chicago on December 19, 1929, most likely due to a heart attack. His body was returned to Texas and buried in Wortham Negro Cemetery (later Wortham Black Cemetery). For many years, his grave was unmarked and not kept clean. Although the exact location of his grave has been lost to time, a new granite marker was installed in 1997. In 2007, the cemetery's name was changed to Blind Lemon Memorial Cemetery, and his gravesite is now kept clean by a cemetery committee in Wortham, Texas.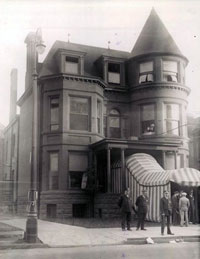 Study Club Fire
September 20, 1929
The Study Club was a 1920s speakeasy and dance hall located in a converted 3-story house at 65 East Vernor Highway, in Detroit, Michigan.
The Study Club fire occurred Friday September 20, 1929, killing 22 people and injuring over 50. The fire originated near the base of a stairwell leading to the restaurant and dance floor on the second floor. The fire spread quickly due to flamable draperies and decorations, trapping many patrons. Most windows were boarded over and the fire escape had not been properly installed and was inaccessible. Some escaped by climbing to the roof and jumping from the building. Bandleader Al Handler helped get several people out a second-floor window, then followed.
After the fire the building's interior was completely destroyed while the exterior appeared undamaged apart from broken windows.
| | | | | | |
| --- | --- | --- | --- | --- | --- |
| 07/11/1915 | 38 | Joe Hill | labor organizer/songwriter | executed by firing squad | Salt Lake City, Utah |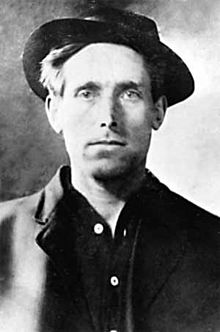 Joe Hill
October 7, 1879 - November 19, 1915
Joe Hill was a Swedish immigrant, labor organizer and member of the Industrial Workers of the World (IWW), known popularly as the "Wobblies". He became a songwriter and cartoonist for the labor union. His most famous songs include "The Preacher and the Slave", "The Tramp", "There is Power in a Union", "The Rebel Girl", and "Casey Jones—the Union Scab."
The song "The Preacher and the Slave" is especially notable. The song, a parody of a Salvation Army hymn, coined the phrase "pie in the sky." It was first published in the 4th edition of the Little Red Songbook in 1911.
Hill was executed by firing squad in Utah, accused of shooting a Salt Lake City grocer and his son. The prosecution's case was based entirely on weak circumstantial evidence, but he was convicted anyway.
Joe Hill's funeral in Chicago drew 30,000 mourners.
After his death, he was memorialized by the folk song "Joe Hill". The song, based on a 1930 poem by the British writer Alfred Hayes called "I Dreamed I Saw Joe Hill Last Night," was sung by a generation of folk music artists including Pete Seeger, Paul Robeson, Phil Ochs and most famously performed by Joan Baez at Woodstock in 1969.
| | | | | | |
| --- | --- | --- | --- | --- | --- |
| 05/01/1868 | 38 | Tom Dula | "Tom Dooley" folk song | executed by hanging | Statesville, North Carolina |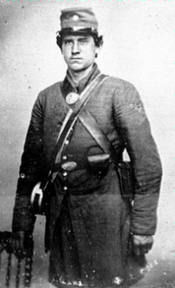 Tom Dula
June 22, 1845 - May 1, 1868
Tom Dula was a Confederate soldier who was hanged to death after a controversial conviction for the murder of one of his lovers, Laura Foster. His story became folk legend after national publicity.
After his death, he was immortalized in the folk song "Tom Dooley" (based on the mispronunciation of his name in the local dialect). The song was made famous by the 1958 recording by the Kingston Trio.
---