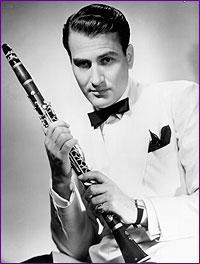 Artie Shaw
May 23, 1910 - December 30, 2004
Artie Shaw was born Arthur Jacob Arshawsky in New York City, the son of immigrant parents. As a teenager, he took up saxophone, but quickly switched to clarinet.
Artie Shaw's signature song was 1938's cover of Cole Porter's "Begin the Beguine." Other popular hits by his big band included "Stardust", "Back Bay Shuffle", "Moonglow", "Rosalie" and "Frenesi".
He signed vocalist Billie Holiday in 1938, becoming the first white bandleader to hire a full-time black female singer. Due to hostility from audiences in the segregated southern US, she was forced to leave the band after recording "Any Old Time."
He also signed drummer Buddy Rich, who toured with Shaw starting in 1939.
Shaw was married eight times. In 2004, he was presented with a Grammy Lifetime Achievement Award.
| | | | | | |
| --- | --- | --- | --- | --- | --- |
| 12/28/2004 | 74 | Hank Garland | jazz and country guitarist | staph infection | Orange Park, Florida |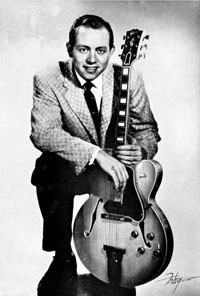 Hank Garland
November 11, 1930 - December 28, 2004
Hank Garland picked up a guitar at age 6. As a teenager, he played the Grand Ole Opry with Paul Howard's Georgia Cotton Pickers. In the early 1950's Hank Garland went on the road with Eddy Arnold. When he returned to Nashville, Garland continued his work in the studios recording with all the big names in rock and country at that time, including Elvis Presley, the Everly Brothers, Patsy Cline and many others.
| | | | | | |
| --- | --- | --- | --- | --- | --- |
| 12/20/2004 | 62 | Son Seals | blues guitarist | Diabetes | Chicago, Illinois |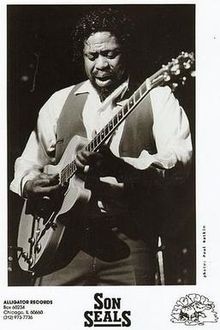 Son Seals
August 13, 1942 - December 20, 2004
Chicago bluesman Frank "Son" Seals has died from complications due to diabetes. He was 62. Seals helped redefine Chicago blues for a new audience in the 1970s. He was known for his intense, razor-sharp guitar work, gruff singing style and his charismatic stage presence.
Frank "Son" Seals was born in Osceola, Arkansas on August 14, 1942. He became an accomplished drummer by the time he was 13. By the age of 18, Son had put down the drumsticks and was leading his own band as a guitarist. He moved to Chicago in 1971 and began playing regular weekend gigs at The Expressway Lounge and other clubs on Chicago's South Side, regularly jamming with legends like Hound Dog Taylor, Junior Wells and Buddy Guy.
Son's 1973 debut recording, The Son Seals Blues Band, was released on the fledging Alligator Records label and made an immediate impression due to his distinctive vocal and guitar style. His recordings helped establish Alligator as a major blues label.
He toured widely, despite the loss of a leg to diabetes. Late in his career he opened several shows for the jam band Phish, who covered his song "Funky Bitch."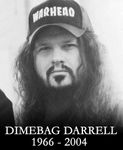 Darrell Abbott


Heavy-metal guitarist Darrel 'Dimebag' Abbott was shot to death as he took the stage at the Alrosa Villa nightclub (demolished 2021) in Columbus, Ohio. Three other people were killed and seven more wounded in the tragic shooting.

Abbott was a founding member of Pantera and guitarist for Damageplan.

Abbott, 38, and his brother, Vinnie Paul Abbott, formed Damageplan after the breakup of Pantera in 2003.

Damageplan's debut album, New Found Power, was released in February 2004. The other band members are Patrick Lachman (vocals) and Bob Zilla (Bass guitar).
| | | | | | |
| --- | --- | --- | --- | --- | --- |
| 12/07/2004 | 93 | Jerry Scoggins | country singer | Natural Causes | Los Angeles, California |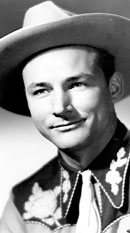 Jerry Scoggins
September 30, 1911 – December 7, 2004
Jerry Scoggins was the lead singer of the Cass County Boys, a country and western group who backed Gene Autry and Bing Crosby in the 1940s and 1950s.
In 1962, the singer was working as a stockbroker and singing only on weekends when he was asked to record a theme song for a television series pilot starring Buddy Ebsen. Jerry Scoggins sang "The Ballad of Jed Clampett", the theme song used to introduce episodes of the TV series and the movie "The Beverly Hillbillies." Bluegrass superstars Lester Flatt and Earl Scruggs played guitar and banjo on the song while Scoggins sang the lyrics. The song was written by Paul Henning and goes like this:
Come 'n listen to my story 'bout a man named Jed Poor Mountaineer barely kept his family fed
An' then one day, he was shootin' at some food, An' up thru the ground came a bubblin' crude.
Oil that is! Black gold! Texas tea!
Well, the first thing ya know, Jed's a millionaire Kin-folk said, "Jed, move away from there." Said
Californy is the place y'oughta be, so they loaded up the truck, and they moved to Beverly.
Hills that is! Swimmin' pools, Movie stars!
Ol' Jed bought a mansion. Lawdy it was swank Next door neighbor was pres'dent of the bank,
Lotsa folks objected, but the banker found no fault, 'Cause ol' Jed's millions was a-layin' in the vault
Cash, that is! Capital gains, Depletion money!
Well now it's time to say goodbye to Jed and all his kin An' they would like to thank you folks fer kindly droppin' in.
You're all invited back again to this locality, T'have a heapin' helpin' of their hospitality.
Hillbilly, that is! Set a spell, Take your shoes off! Y'all come back, here!


Terry Melcher
February 8, 1942 - November 19, 2004
Terry Melcher, son of actress Doris Day and her first husband, trombonist Al Jorden, has died after a long battle with cancer. Melcher was a pioneer of the California surf sound, and a founding member of the Rip Chords, who had a 1964 hit "Hey Little Cobra". He worked with the Beach Boys on their landmark Pet Sounds album, co-wrote their hit "Kokomo", and was later a record producer who helped bring the Byrds to fame. He produced their hit versions of "Mr. Tambourine Man" and "Turn, Turn, Turn" and later recordings like the "Ballad of Easy Rider."
Melcher was a tangential figure in the 1969 Charles Manson murders. He once rented the home where Sharon Tate was murdered. (The house on Cielo Drive, incidentally, was demolished in 1994 to make way for a larger mansion). There was speculation at the time that Mr. Melcher, who knew Charles Manson, was the intended target. He had turned down Manson's request for a recording contract.
During his career, Mr. Melcher worked with many trend-setting artists including Paul Revere and the Raiders, Ry Cooder, Taj Mahal, Glen Campbell, Gram Parsons and the Mamas and the Papas, among others.
<! #2004 #DJ #Stones #Murder #Beatles >
| | | | | | |
| --- | --- | --- | --- | --- | --- |
| 11/01/2004 | 61 | Terry Knight | Radio Personality | Murdered | Temple, Texas |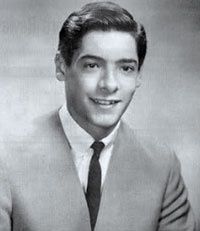 Terry Knight
April 9, 1943 - November 1, 2004
Richard Terrence Knapp was an American radio personality, promoter, and singer/songwriter. In 1963, after changing his name to Terry Knight, he began a career as a Detroit area DJ. He hosted a legendary late-night show from high-powered Canadian station CKLW, becoming one of the first American DJs to air the Rolling Stones. He was awarded the honorary title of "The Sixth Stone" for his early support of the Stones.
Around 1965, Knight fashioned his songwriting and performing career in Flint, Michigan, as the front man for Terry Knight and the Pack. With his band, Knight recorded a handful of regional hits for Lucky 11 Records, including his self-penned generation gap anthem "A Change On The Way," as well as scoring two national hits, a tasteful cover of the Yardbirds "Mister, You're A Better Man Than I" and his ultra-lounge reading of Ben E. King's "I (Who Have Nothing)." TK&TP left behind two long-playing garage classics before breaking up in 1967. (Brownsville Station honored TK&TP with a cover of the Knight-penned "Love, Love, Love, Love, Love" on their '73 album Yeah!) In '67, Knight attempted a solo career as a singer and staff producer with the terminal Cameo-Parkway label, with limited success. He produced and wrote a handful of tracks by other artists, including garage legends ? & the Mysterians and the easy-listening International Pop Orchestra. He also scored music for the 20th Century Fox noir classic The Incident. In 1969, Knight secured a contract with Capitol Records where he released a 45, "Saint Paul," which contributed to the "Paul Is Dead" hoax. Although his version failed to rise above Billboard's Hot 100, the song provided New Zealand singer Shane the best-selling single of the 1960s in his native land.
In 1968, Mark Farner and Don Brewer, former members of Terry's band, formed Grand Funk Railroad. Capitol retained Knight as the manager and producer of the new band. Grand Funk Railroad became largest-selling rock band of 1970. Knight's Beatlesque production on their LP "Closer To Home" transformed the raucous concert attraction into an acclaimed recording group.
Knight also discovered and produced Bloodrock, who hit the Top 40 in 1971 with the unlikely death anthem "DOA."
Between 1970-72, Knight was the most successful (and controversial) promoter in the rock business, racking up an unprecedented eight gold albums while simultaneously waging a war of words with Rolling Stone. In 1972, both Grand Funk Railroad and Bloodrock severed their professional relations with Knight, the former quite acrimoniously. He was dropped from Capitol soon after, and began his own label, Brown Bag Records, releasing albums and singles by Mom's Apple Pie, John Hambrick, Wild Cherry and Faith. None of them found commercial success and, in late 1973, Knight retired permanently from show business. He associated with super model Twiggy and raced cars with film star Paul Newman in the mid-70s before succumbing to the cocaine addiction that claimed his later years.
Terry Knight was murdered at the age of 61, found stabbed to death in his apartment in Temple, Texas. On November 26, 2005, his killer, Donald A. Fair, was sentenced to life in prison. Terry's daughter, Danielle, survives him.
| | | | | | |
| --- | --- | --- | --- | --- | --- |
| 10/25/2004 | 65 | John Peel | Radio Personality | Heart Failure | Cuzco, Peru |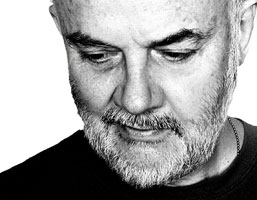 John Peel
August 30, 1939 - October 25, 2004
John Peel, the BBC disc jockey who was a champion of innovative and independent music for nearly four decades, suffered a fatal heart attack in his hotel room while on vacation in Cuzco, Peru. He was 65.
Born John Ravenscroft, Mr. Peel began his radio career in the early 1960's, working at a number of stations including WRR in Dallas. When he returned to England in 1967, he went to work for Radio London, a pirate station that broadcast from a ship outside British territorial waters.
Peel had been on the BBC's Radio 1 since its inception in 1967 and had a reputation for playing cutting-edge music from around the world. He was known for the extraordinary range of his taste in music and famed for his "Peel Sessions" broadcasts in which Mr. Peel invited groups into the studio for live performances.
| | | | | | |
| --- | --- | --- | --- | --- | --- |
| 10/01/2004 | 58 | Bruce Palmer | Buffalo Springfield, bassist | Heart Failure | Belleville, Ontario, Canada |


Bruce Palmer
September 9, 1946 - October 1, 2004
Buffalo Springfield bassist Bruce Palmer has died of an apparent heart attack at age 58.
Born in Canada in 1946, Palmer was an early collaborator with Neil Young, first in the Mynah Birds, a band that also featured Rick James, who died two months earlier. The group broke up after James was sent to prison for going AWOL from the military. Palmer and Young moved from Ontario to Los Angeles in the spring of 1966, making the journey in Young's black hearse. The pair soon joined forces with Stephen Stills, drummer Dewey Martin and singer/guitarist Richie Furay to form Buffalo Springfield. Hit songs included "For What It's Worth" and "Mr. Soul".
Palmer exited Buffalo Springfield in January 1968, in part due to Palmer's ongoing difficulties with U.S. immigration, which sought to deport him for a pair of marijuana-related convictions. He was replaced by Jim Messina, but the band split up shortly thereafter. He went on to release a 1971 solo album for Verve, The Cycle is Complete featuring Rick James on percussion and vocals.
Bruce Palmer and his bandmates in Buffalo Springfield were inducted into the Rock 'n' Roll Hall of Fame in 1997.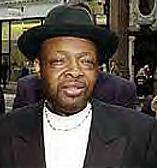 Louis Satterfield
April 3, 1937 - September 27, 2004
Louis Satterfield was a session musician on bass and trombone player. He worked with a number of prominent blues and rock performers including B.B. King, Muddy Waters, Howlin' Wolf, Earth, Wind & Fire, and Phil Collins. He was also a bass teacher, most notably for Verdine White of Earth, Wind & Fire.
| | | | | | |
| --- | --- | --- | --- | --- | --- |
| 09/19/2004 | 72 | Skeeter Davis | country singer | Breast Cancer | Nashville, Tennessee |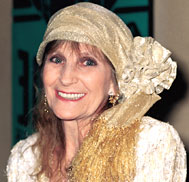 Skeeter Davis
December 30, 1931 - September 19, 2004
Grand Ole Opry star Skeeter Davis died September 19th, 2004 in Nashville after a long struggle with cancer. She was 72.
Davis, who was born Mary Frances Penick, was nicknamed Skeeter by her grandfather who said she was so active she buzzed around like a mosquito. In the 1950s, while still in high school, she teamed up with Betty Jack Davis (no relation) to form a musical duo. On Aug. 2, 1953, the Davis Sisters were involved in a head-on car crash that killed Betty Jack and seriously injured Skeeter. For a brief period, the duo continued with Betty Jack's sister, Georgia, substituting. The act never recovered its momentum and eventually Davis moved to Nashville to record for RCA as a solo act with Chet Atkins as her producer. She later toured with Elvis Presley and the Rolling Stones.
In 1973, she was suspended from the Opry for more than a year for protesting the arrest of "Jesus freaks" at a Nashville-area mall.
Her autobiography, Bus Fare to Kentucky, was published in 1993.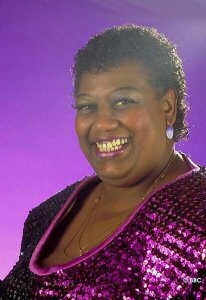 Izora Rhodes-Armstead
July 6, 1942 - September 16, 2004
Izora Armstead and Martha Wash were back-up singers for the disco singer Sylvester. When their popularity grew, their manager decided to feature them as a separate act called "Two Tons O'Fun." The duo was later renamed "The Weather Girls", remembered for their 1984 hit "It's Raining Men." The song was co-written by Paul Schaffer (of late show with David Letterman fame).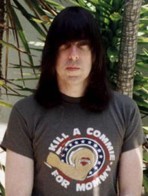 Johnny Ramone
October 8, 1948 - September 15, 2004
Johnny Ramone, guitarist and original member of the Ramones, has died at his home in Los Angles. He was 55. Johnny had been suffering for several years from prostate cancer.
Born John Cummings, in 1974 he teamed with Joey Ramone, bassist Dee Dee Ramone and drummer Tommy Ramone to form the seminal punk band the Ramones. The band the group started out in legendary New York clubs like CBGB's and Max's Kansas City and went on to influence a generation of rockers. The Ramones were inducted into the Rock 'n' Roll Hall of Fame in 2002.
Johnny Ramone was surrounded at his death by friends, including Pearl Jam's Eddie Vedder, singer Rob Zombie and others. Other friends who gathered at his Los Angeles home included Lisa Marie Presley, Pete Yorn, Vincent Gallo and Talia Shire. Johnny was cremated at a private ceremony. A memorial statue of Joey was built in the Hollywood Forever Cemetery, near the gravesite of his former bandmate Dee Dee.
Joey Ramone, whose real name is Jeff Hyman, died in 2001 of lymphatic cancer. Dee Dee Ramone, whose real name is Douglas Colvin, died from a drug overdose in 2002.
Kenny Buttrey
April 1, 1945 - September 12, 2004
Session drummer Kenny Buttrey has died at age 59. He recorded hits with Bob Dylan, Neil Young and Jimmy Buffett. Buttrey provided the percussion for works including Dylan's Nashville Skyline and Blonde on Blonde, Neil Young's Harvest and Buffett's Changes in Latitudes, Changes in Attitudes.
| | | | | | |
| --- | --- | --- | --- | --- | --- |
| 09/11/2004 | 66 | Jimmy Lewis | Drifters, singer | | Los Angeles, California |
Jimmy Lewis
November 19, 1937 - September 11, 2004
James Eddie Lewis was an American soul singer, songwriter, arranger and producer. He was a member of the Drifters in the 1960s, worked as a songwriter and producer with Ray Charles and wrote songs for Z. Z. Hill among many others.
Michael Edward Connor
1949 - September 9, 2004
Michael Connor was a member of Pure Prairie League. He joined them in 1972 on piano, in time to be included in the group's second album Bustin' Out. The album included the band's biggest hit, Amie.
| | | | | | |
| --- | --- | --- | --- | --- | --- |
| 09/01/2004 | 68 | Raful Neal | bluesman | Cancer | Baton Rouge, Louisiana |

Raful Neal
June 6, 1936 - September 1, 2004
Raful Neal was a blues singer, harmonicist and songwriter from Baton Rouge, Louisiana. Neal began playing the harmonica at age 14. He played with Buddy Guy in a band called the Clouds.
Several of his children are blues musicians. His daughter Jackie Neal was a blues singer who was shot and killed in 2005. His son Kenny Neal tours with his brothers, Frederick, Darnell, and Graylon.
| | | | | | |
| --- | --- | --- | --- | --- | --- |
| 08/31/2004 | 61 | Carl Wayne | The Move, vocalist | Esophageal Cancer | Birmingham, England |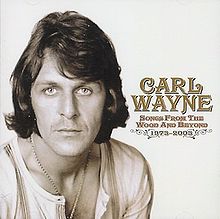 Carl Wayne
June 18, 1943 - August 31, 2004
Carl Wayne, born Colin David Tooley in Birmingham, England, was best known as the lead vocalist for the 1960s rock group The Move. Wayne also made a few recordings with the Electric Light Orchestra as guest vocalist, and joined the Hollies in 2000 after the retirement of lead vocalist Allan Clarke.
The Official Carl Wayne Website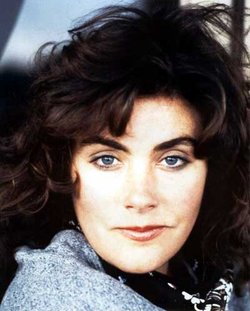 Laura Branigan
July 3, 1952 - August 26, 2004
Laura Branigan, a pop singer best known for her 1982 platinum hit "Gloria," has died. She was 52. Branigan died in her sleep in her New York home of an apparent brain aneurysm.
"Gloria," from her debut album Branigan, stayed on the pop charts for 36 weeks and earned her a Grammy nomination for best female pop vocalist. She also appeared on television, including guest spots on "CHIPS," and in the films "Mugsy's Girls" and "Backstage." Her songs appeared on soundtracks for the films "Flashdance" and "Ghostbusters." In 2002 she starred as Janis Joplin in the off-Broadway musical "Love, Janis".
| | | | | | |
| --- | --- | --- | --- | --- | --- |
| 08/22/2004 | 81 | Al Dvorin | announcer | Auto Accident | Ivanpah, California |


Al Dvorin
November 18, 1922 - August 22, 2004
Al Dvorin, a concert announcer who made famous the phrase "Elvis has left the building," was killed in an auto accident in California. He was 81.
The night before his death, Dvorin performed his signature closing line at an Elvis impersonator concert. A former bandleader and talent agent in Chicago, Dvorin was with the King from his early days as a performer until Elvis' last tour in 1977.
Jak Airport

Jak Airport (born Jack Stafford), was a punk rock guitarist and songwriter with the X-Ray Spex, signed to EMI in 1977. He later worked for the BBC's public relations department.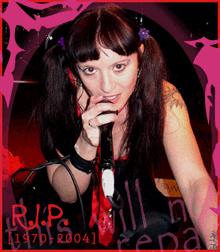 Paulette Valenzuela
1970 - 2004
Paulette was the vocalist for the San Diego hard-rock band, The Abuse. The band was enjoying some success on the scene and had opened a show for Korn.
Paulette and a few friends were having a party and a few beers at her apartment on the 4200 block of Voltaire Street in Ocean Beach on the night of Friday, Aug. 6. As three of her new friends were leaving Paulette's apartment around 4 a.m. Saturday morning, a steak fell from the jacket of one of the men. He had stolen the steak from Paulette's freezer. Paulette confronted the man, but he brandished a gun and attempted to rob everyone, ordering them to hand over their wallets and valuables. Paulette refused to comply. Instead, she grabbed the man's hand, pulling it, with gun, to her own head. She attempted to call his bluff. Startled, the man pulled the gun away, and fired one shot. The bullet penetrated Paulette's heart, killing her instantly.
The shooter, it was later learned, fled to Rosarito, Mexico. He wasn't hard to identify; witnesses reported the name 'Snoopy' tattooed on the left side of his neck. He was identified as Samuel Horn, a 21-year old black man. In his trial, he was convicted of the shooting and sentenced to life in prison without parole.
| | | | | | |
| --- | --- | --- | --- | --- | --- |
| 08/06/2004 | 56 | Rick James | funk singer | Heart Attack | Los Angeles, California |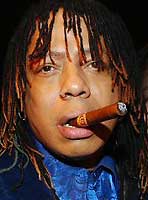 Rick James
Born Feb 1, 1948 as James A. Johnson Jr. in Buffalo, New York
Died Aug 6, 2004 at home in Universal City, California
Funk legend Rick James, best known for the 1981 hit "Super Freak", died alone in his sleep at his California home. He was 56.
In the 1960's, long before James' long hair was styled in his trademark Jheri Curls, he formed the band Mynah Birds with Neil Young, Goldie McJohn (later of Steppenwolf) and Bruce Palmer (later of Buffalo Springfield). Rick James was also the cousin of Temptations member Melvin Franklin.
James had success in the 70's and 80's, but drugs and declining health slowed his career. In 1991, he and his girlfriend restrained and attacked a young woman, burning her with a hot crack pipe and forcing her to perform sex acts. In 1992, he was free on bail when a second assault occurred in a hotel room. James spent two years in Folsom Prison.
| | | | | | |
| --- | --- | --- | --- | --- | --- |
| 07/23/2004 | 44 | Bill Brown, Jr. | Ozark Mountain Daredevils, guitarist | House Fire | Springfield, Missouri |
| 07/23/2004 | 41 | Don Shipps | Titanic Blues Band, bassist | House Fire | Springfield, Missouri |
| 07/13/2004 | 55 | Arthur "Killer" Kane | New York Dolls, bassist | Leukemia | Los Angeles, California |
| 06/10/2004 | 73 | Ray Charles | pop singer | Liver Disease | Beverly Hills, California |


Ray Charles
Born Sept 23, 1930 in Albany, Georgia
Died June 10, 2004 at home in Beverly Hills, California
Ray Charles (born Ray Charles Robinson) was an American musician known for fusing rhythm & blues, gospel, and blues styles. His merger of these musical forms helped develop soul music as a new form of black popular music.
Charles was born in Albany Georgia, the son of Aretha Williams, a share cropper, and Bailey Robinson, a railroad repair man, mechanic and handyman. When Ray was an infant the family moved South to the poor black community of Greenville, Florida.
Charles started to lose his sight at the age of five. He went completely blind by the age of seven. He attended school at the School for the Deaf and the Blind in St. Augustine, Florida from 1937 to 1945, where he developed his musical gift and learned to play the alto saxophone, clarinet, trumpet, and organ.
In 1947, Ray used his savings to move to Seattle and soon started recording. He dropped his surname to avoid confusion with the boxer Sugar Ray Robinson. In 1953, Ahmet Ertegun signed him to Atlantic Records. Almost immediately after signing with Atlantic, Charles scored his first hit singles. "It Should Have Been Me" and "Don't You Know" both made the charts in 1954, but it was "I Got A Woman" (composed with band mate Renald Richard) that brought him to national prominence.
In 1959, Charles crossed over to Top 30 radio with the release "What'd I Say", which derived from the call-and-response conceived while Charles was in concert. Charles would also record The Genius of Ray Charles, before leaving Atlantic for a more lucrative deal with ABC Records in 1960.
Hit songs such as "Georgia On My Mind", "Hit the Road Jack", "One Mint Julep" and "Unchain My Heart" helped his transition to pop success, and his landmark 1962 album, Modern Sounds in Country and Western Music and its sequel, helped to bring country into the mainstream of music.
In 1965, Charles was arrested for possession of heroin, a drug to which he had been addicted for nearly 20 years. His rehabilitation from heroin addiction slowed his output as a musician. After taking a break for a year, he returned in 1966 with "Let's Go Get Stoned." He began to focus more on pop and show tunes, often adding lush string arrangements.
In the 1990s, he sang in several ads for Diet Pepsi, crooning "You Got the Right One, Baby, Uh-huh!" He was also featured in USA for Africa's 1985 hit, "We Are the World."
Ray Charles died on June 10, 2004 at 11:35 AM of liver cancer at his home in Beverly Hills, California, surrounded by family and friends. His body was interred in the Inglewood Park Cemetery in Inglewood, California.
A few months after his death, his final album Genius Loves Company was released as was biopic Ray, an October 2004 film which portrays his life and career between 1930 and 1966 and stars Jamie Foxx as Charles. Foxx won the 2005 Academy Award for Best Actor for the role.
This list of official honors given to Ray Charles is truly impressive: He won 17 Grammy Awards in his career (including five posthumously). Ray's version of "Georgia On My Mind" was declared to be the official state song of Georgia (The song was later used as the theme song for the hit television series Designing Women). In 1981, he was given a star on the Hollywood Walk of Fame and was one of the first inductees to the Rock 'n' Roll Hall of Fame at its inaugural ceremony in 1986. He was recipient of the Kennedy Center Honors. In 2007, his birthplace, Albany Georgia, honored Ray with a revolving, lighted bronze sculpture of his likeness seated at a piano.
Charles was married and divorced twice and fathered 12 children by nine different women.
| | | | | | |
| --- | --- | --- | --- | --- | --- |
| 06/10/2004 | 47 | Graeme Kelling | Deacon Blue, guitarist | Pancreatic Cancer | Glasgow, Scotland |
| 06/09/2004 | 68 | Alistair Taylor | Beatles Associate | | Chesterfield, England |
Alistair Taylor
June 21, 1935 - June 10, 2004
Alistair Taylor was hired by Brian Epstein as his personal assistant and worked with Brain at his NEMS record shop. Taylor went with Epstein to Liverpool's Cavern Club on November 9, 1961, when both saw their first Beatles performance. Taylor thought the group "absolutely awful", but that there was something "remarkable" about them. Epstein loved the group and soon offered to be their manager.
Alistair Taylor was known as the Beatles' Mr Fix-it for his ability to find solutions to the band's needs. Some of his tasks included: buying cigarettes; hiring limousines; devising escapes from Beatles' fans after their performances; organizing holiday trips; acting as consultant to John Lennon for the purchase of Dornish Island (Ireland) for £1,550; being the middle-man in the purchase of High Park, the Scottish farm, for Paul, Jane, and Martha; renting the Magical Mystery Tour bus; resolving the copyright issues around the photographs of famous faces on Peter Blake's cover for Sgt Pepper's Lonely Hearts Club Band and arranging the money exchange of the unsuccessful buying of the Greek island of Leslo (July 1967).
Taylor was General Manager of Apple Corps for a short period, but was fired when Allen Klein was brought in to help straighten out Apple's out of control spending. Taylor also briefly managed the Moody Blues.
In later years, he was a frequent speaker at Beatles conventions. His stage show, From Cavern to Rooftop, was the first Beatle-related event to be staged in the Paul McCartney Auditorium at the Liverpool Institute of Performing Arts. In 2001, he wrote a book A Secret History and also made contributions to George Gunby's official biography Hello Goodbye: the story of Mr Fixit.
Taylor died in his sleep in Chesterfield, Derbyshire, after a short bronchial illness.
| | | | | | |
| --- | --- | --- | --- | --- | --- |
| 06/08/2004 | 79 | Bill Lowery | music publisher | Cancer | Atlanta, Georgia |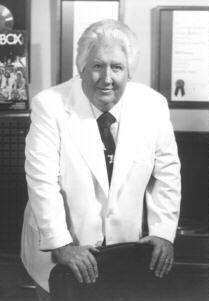 Bill Lowery
October 21, 1924 – June 8, 2004
| | | | | | |
| --- | --- | --- | --- | --- | --- |
| 06/05/2004 | 61 | Robert Quine | guitarist | Heroin Overdose | New York, New York |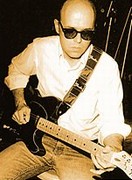 Robert Quine
Born Dec 30, 1942 in Akron, Ohio
Died June 5, 2004 in New York City
Punk rock guitarist heavily influenced by the Velvet Underground, often making bootleg recordings of their San Francisco concerts.
Robert Quine (rhymes with "wine") performed with Richard Hell & the Voidoids, and was in demand as a session player. His guitar work also appears on Lou Reed's "Blue Mask" (1982), Tom Waits' "Rain Dogs" (1985) and Marianne Faithfull's "Strange Weather" (1987). In 1989, he began an association with Matthew Sweet; he also worked regularly with Lloyd Cole.
Robert died of a heroin overdose in his New York apartment. He was depressed about the recent passing of his wife. He was 61.
| | | | | | |
| --- | --- | --- | --- | --- | --- |
| 05/18/2004 | 75 | Elvin Jones | Jazz drummer | Heart Failure | Englewood, New Jersey |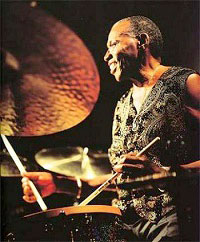 Elvin Jones
September 9, 1927 - May 18, 2004
Innovative jazz drummer Elvin Jones, noted for his rhythmic style, has died from Heart Failure at age 75.
Jones, the youngest of ten children, was born in Pontiac Michigan on September 9th, 1927. He entered Detroit's jazz scene in the 1940's. After moving to New York and recording for Charles Mingus, in 1960, he became a member of John Coltrane's quartet. Jones briefly played with Duke Ellington and formed the Elvin Jones' Jazz Machine.
Elvin Jones was a favorite of Doors drummer John Densmore, who eulogized him in the November 2004 issue of "Utne Reader".
| | | | | | |
| --- | --- | --- | --- | --- | --- |
| 05/17/2004 | 41 | Alex Nelson | Lizzy Borden, guitarist | Car Accident | Palm Springs, California |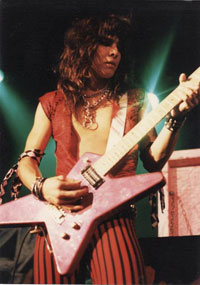 Alex Nelson
1963 - May 17, 2004
Alex Nelson was a talented guitarist for metal band Lizzy Borden, joining the band to replace original guitarist Tony Matuzak before the recording of The Murderess Metal Roadshow. He went on to tour with Lizzy Borden all over the world.
Nelson was apparently intoxicated and driving recklessly when he crashed his Ford Explorer on the afternoon of May 17, 2004. He was travelling on Indian Canyon Drive in Palm Springs, side-swiped a pickup truck and them slammed head-on into a Lexus. Alex was ejected and died on the scene. He was just 41.
His body was cremated; the location of his ashes is unknown.
Tragically, another Lizzy Borden guitarist, Corey Daum, was killed in 2009 in an eerily similar car crash.
| | | | | | |
| --- | --- | --- | --- | --- | --- |
| 05/11/2004 | 55 | John Whitehead | McFadden & Whitehead, songwriter | Murdered | Philadelphia, Pennsylvania |
John Whitehead
July 10, 1948 - May 11, 2004
John Whitehead was one of the key members of the Philadelphia International record label, and was one-half of the successful team of McFadden & Whitehead. Gene McFadden & Whitehead wrote many hits such as "Backstabbers" for the O'Jays and "I'll Always Love My Mama" for The Intruders and "Bad Lock" and "Wake Up Everybody" for Harold Melvin & The Blue Notes. In 1979, McFadden & Whitehead had an international hit with "Ain't No Stopping Us Now", helping them earn a Grammy nomination.
On the evening of May 11, 2004, John Whitehead was murdered by two unknown gunmen while fixing his car on the street outside his Philadelphia home. The murder remains unsolved.
Gene McFadden died of cancer in 2006.
| | | | | | |
| --- | --- | --- | --- | --- | --- |
| 05/15/2004 | 63 | Clint Warwick | The Moody Blues, bassist | Liver Disease | Birmingham, England |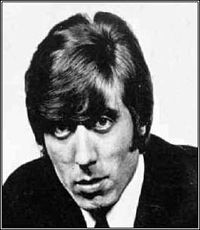 Clint Warwick
June 25, 1940 – May 15, 2004
Clint Warwick was the original bassist for the Moody Blues. He left the band in 1966 after appearing on their first album The Magnificent Moodies, returning to his work as a carpenter.
| | | | | | |
| --- | --- | --- | --- | --- | --- |
| 05/06/2004 | 70 | Barney Kessel | Jazz guitarist | Brain Tumor | San Diego, California |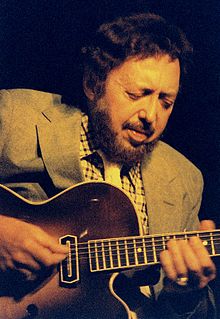 Barney Kessel
October 17, 1923 - May 6, 2004
Barney Kessel was an influential jazz guitarist and, later in his career, one of the most in-demand session players.
Born in Muskogee, Oklahoma, he was playing guitar by age 16, performing with local blues bands and with the University of Oklahoma Dance Band.
In 1942, he moved to Los Angeles and quickly established himself. He began playing with Chico Marx and recorded with Charlie Ventura, Roy Eldridge and Artie Shaw.
In 1944, Kessel appeared with several prominent jazz musicians in the film "Jammin' The Blues." He was the only white performer in the film. To disguise this, he was seated in the shadows and his hands were stained with berry juice!
In the early 1950s, he was a member of the Oscar Peterson Trio with Ray Brown. He went on to play with Sonny Rollins.
Kessel was a member of "The Wrecking Crew" a group of Los Angeles session musicians who earned fame in the 1960s. He played on hundreds of recordings including works by Phil Spector, The Beach Boys, The Monkees and others.
Gibson guitars created a Barney Kessel model guitar and marketed them from 1961 until 1973.
Kessel suffered a stroke in 1992 and died of a brain tumor in San Diego, California 12 years later.
| | | | | | |
| --- | --- | --- | --- | --- | --- |
| 04/15/2004 | 53 | Ray Condo | Rockabilly Revivalist | Heart Attack | Vancouver, British Columbia, Canada |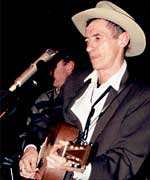 Ray Condo
May 16, 1950 - April 15, 2004
Ray Condo, a popular Canadian rockabilly singer, died on April 15 from an apparent heart attack. He was 53. Born Ray Tremblay, Condo was raised on the music of Elvis Presley and Hank Williams. At 16, he released his first album as a member of the British Invasion group, the Peasants. He performed with the punk band, The Secret Vs, before finding his niche in rockabilly and western swing music.
Condo spent 11 years playing with the hillbilly garage band, Ray Condo & His Hardrock Goners. The group became a staple in Montreal clubs, and was known as Canada's premier rockabilly act.
In the 1990s, the singer, guitarist and saxophone player moved to Vancouver and formed Ray Condo & The Ricochets. The Ricochets released several albums and toured all over the world.
Ritchie Cordell
March 10, 1943 - April 13, 2004
Ritchie Cordell (born Richard Joel Rosenblatt) authored a string of '60s pop hits, including "Mony Mony" and "I Think We're Alone Now" for Tommy James & the Shondells. He penned "Indian Giver" for the 1910 Fruitgum Company and "Gimme Gimme Good Lovin'" for Crazy Elephant. He produced Joan Jett's debut album Bad Reputation and her No. 1 1982 hit "I Love Rock 'N Roll," Bow Wow Wow's "I Want Candy" and the Ramones' "Subterranean Jungle."
| | | | | | |
| --- | --- | --- | --- | --- | --- |
| 04/06/2004 | 66 | Niki Sullivan | Buddy Holly & The Crickets | Heart Failure | Sugar Creek, Missouri |

Niki Sullivan
June 23, 1937 - April 6, 2004
Niki Sullivan met Buddy Holly during a Lubbock, Texas jam session in the summer of 1956. Buddy was impressed and invited Niki to be the rhythm guitar player and backing vocalist for Buddy Holly & The Crickets. Sullivan left the Crickets at the end of 1957 and eventually left the music industry, taking a job at Sony.
| | | | | | |
| --- | --- | --- | --- | --- | --- |
| 04/01/2004 | 58 | Paul Atkinson | Zombies, guitarist | Liver Failure | Santa Monica, California |
Paul Atkinson
March 19, 1946 - April 1, 2004
Paul Atkinson, founding member and guitarist for The Zombies, has died after losing his long battle with liver and kidney disease. He was 58.
The Zombies recorded their psychedelic masterpiece, Odessey and Oracle, in 1967 -- then broke up. Al Kooper (ex-Blood, Sweat & Tears), urged Columbia records to release the LP, which went on to produce a huge hit with "Time of the Season".
After The Zombies, Atkinson stopped performing and took on a career as an A&R man. In that role, he went on to sign bands including ABBA, Judas Priest, Mr. Mister and Bruce Hornsby.
| | | | | | |
| --- | --- | --- | --- | --- | --- |
| 03/26/2004 | 62 | Jan Berry | Jan & Dean | Seizure | Los Angeles, California |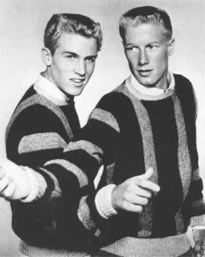 Jan Berry
April 3, 1941 - March 26, 2004
Jan Berry, founding member of the duo Jan & Dean that had 10 gold records with 1960s surf-music hits such as "Deadman's Curve" and "Little Old Lady from Pasadena," has died. He was 62.
Berry's hit-making career with high school friend Dean Torrence was interrupted in 1966 when Berry's speeding Corvette hit a parked truck and he suffered severe brain damage, leaving him partially paralyzed and unable to talk.
His recovery was slow, but eventually he was able to resume singing and writing songs. He died at UCLA Medical center after he had a seizure and stopped breathing at his Brentwood home.
| | | | | | |
| --- | --- | --- | --- | --- | --- |
| 03/17/2004 | 62 | J. J. Jackson | Original MTV VJ | Heart Attack | Los Angeles, California |


JJ Jackson
April 8, 1941 - March 17, 2004
John 'J.J.' Jackson, who helped usher in the music video era as one of the first MTV on-air personalities, has died. He was 62. Jackson, a longtime radio station disc jockey, died of an apparent heart attack while driving home from dinner in Los Angeles.
After five years at MTV, Jackson returned to radio in Los Angeles, including a stint hosting a nationally syndicated show on the Westwood One Radio Network. Most recently, he was hosting an afternoon slot at KTWV.
| | | | | | |
| --- | --- | --- | --- | --- | --- |
| 03/11/2004 | 47 | Edmund Sylvers | The Sylvers, singer | Lung Cancer | Richmond, Virginia |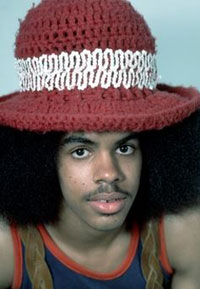 Edmund Sylvers
January 25, 1957 - March 11, 2004
Edmund Sylvers, the lead singer on "Boogie Fever" and "Wish That I Could Talk To You" for the 1970s funk-soul group The Sylvers, died March 11 of lung cancer. He was 47. The singer died after a 10-month illness, according to his niece, Tyava Sylvers.
Sylvers was 15 when he started singing with six other members of his family on their self-titled debut album in 1972. His high tenor voice was the centerpiece of such songs as "Fool's Paradise." From five albums, other songs by the group included "Cotton Candy," "That's What Love Is Made Of" and "High School Dance." Sylvers made a solo album, "Have You Heard," in 1980 that included the single "That Burning Love."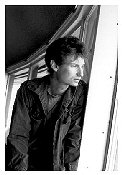 Dave Blood
September 16, 1956 - March 10, 2004
Dave Blood, bassist for '80s punk band the Dead Milkmen, has committed suicide. Blood's mother died in January 2004, and in a post on the band's message board, the bassist's sister wrote, "Inner peace seemed to elude him for the last many years. Maybe David just had had enough."
Blood was a founding member of the band, which formed in 1983 and made a name for itself with novelty hits like "Bitchin' Camaro" and "Punk Rock Girl." The Dead Milkmen broke up in 1995. In recent years, Dave had stopped playing bass due to extreme tendonitis in his hands. In the mid-1990s, he enrolled at Indiana University to study Yugoslavian culture, and spent nearly a year in the country between August 1998 and April 1999. In an E-mail interview late last year with journalist Mark Prindle, he expressed interest in returning to the country in the near future.
| | | | | | |
| --- | --- | --- | --- | --- | --- |
| 03/04/2004 | 48 | John McGeoch | Magazine / Siouxsie & The Banshees / Public Image Ltd., guitarist | | Launceston, Cornwall, England |
John McGeoch
May 28, 1955 - March 4, 2004
John McGeoch was a Scottish guitarist active in the British new-wave scene. He played with Magazine, Visage, The Armoury Show, Public Image Limited and Siouxsie & The Banshees. He played guitar on the Banshees albums Kaleidoscope (1980), Juju (1981), and A Kiss in the Dreamhouse (1982). McGeoch joined Public Image Ltd. in 1986 and appears on their albums Happy?, 9 and That What Is Not.
In 1995, John left the music industry and retrained as a nurse. He reportedly died in his sleep due to an unknown illness.
| | | | | | |
| --- | --- | --- | --- | --- | --- |
| 02/12/2004 | 59 | Bob Greenlee | King Snake Records | Pancreatic Cancer | Sanford, Florida |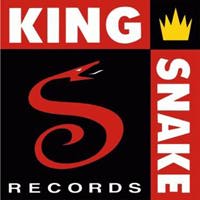 Bob Greenlee

Bob Greenlee, founder of independent blues label King Snake Records, died at his home after a 2-year battle with cancer. During the 80's and 90's, Greenlee helped revitalize the careers of talented, often overlooked musicians like Rufus Thomas, Lazy Lester, Lucky Peterson, Kenny Neal, Bill Wharton, Ace Moreland, Floyd Miles, Dr. Hector & the Groove Injectors, harmonica master Raful Neal and saxophonist Noble 'Thin Man' Watts.
Greenlee attended law school at Yale, where he was captain of the Yale football team. He also was a fourth-round draft pick of the Miami Dolphins in 1967. Music, however, overwhelmed the lure of these other careers.
Greenlee made his first national splash as bassist with the outrageous Root Boy Slim & the Sex Change Band. He later played bass in the Central Florida blues band the Midnight Creepers.
| | | | | | |
| --- | --- | --- | --- | --- | --- |
| 02/04/2004 | 58 | Cornelius Bumpus | Doobie Brothers / Steely Dan, saxophonist | Heart Attack | Sioux City, Iowa |

Cornelius Bumpus
January 13, 1946 - February 3, 2004
Cornelius Bumpus was saxophonist for Doobie Brothers and Steely Dan. He also played with Moby Grape and Box Scaggs in the 1970s. He died of heart failure while on a flight from New York to Los Angeles.
"Dino" Dines
December 17, 1944 - January 28, 2004
Dines was recruited as the keyboard player for Marc Bolan's T. Rex and played with him from 1974 until Bolan's death in 1977. He also played sessions with bands such as PP Arnold, The Hollies and The Beach Boys.
---